Even at $113.5 billion per year, however, Warshay noted that the demand would represent only about 52GW, or less than 1 percent of the world's installed capacity. By comparison, a big nuclear plant in the US typically has a capacity of 1GW to 2GW.
Lux's study did not look at established storage technologies, such as pumped hydro. Pumped hydro, in which water is pumped to a high locale and then allowed to flow downhill to spin a generator, has been available for decades. The technology has increasingly run into "siting" challenges and was not viewed as one of the study's emerging possibilities.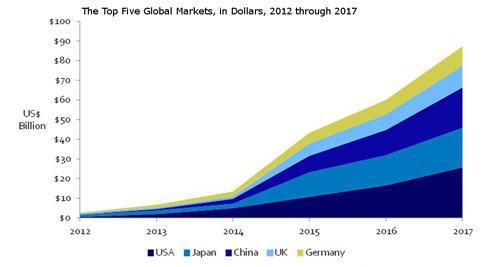 Development of batteries for storage applications has been gaining momentum recently. Last year, Bill Gates announced his support of Liquid Metal Battery Corp., an MIT-spinoff firm that's making a huge liquid-based battery that operates at high temperatures and is specifically designed for storage applications. Similarly, Prudent Energy's Vanadium Redox Flow Battery has gained ground, and has been designed into solar and wind applications in Ireland, Japan, Germany, and Denmark.
Warshay said that some locales will need storage more than others. Countries that share infrastructure with neighbors, such as Denmark, may not need storage as badly, since they can buy electricity from other nations. But island-based regions, such as Hawaii, would have a greater demand for storage because of their isolation.
Warshay said Lux's study proves that storage could play a greater role than expected, especially if renewables continue to grow. "A lot of people believe that storage is too expensive," he said. "But the takeaway from our study is that grid storage has tremendous potential in a variety of applications around the globe today."
Related posts: