The second mounting style of captive panel screws is the flare-mounted type. These fasteners with captive screws are usually recommended for stainless steel applications and for most thin materials of any hardness. Unlike self-clinching versions, the flare-mounted fastener's shank deforms during installation (instead of the panel) and requires minimal installation force. These fasteners likewise install flush on the panel's backside. Also, unlike self-clinching fasteners, they are appropriate for close centerline-to-edge applications. They are also appropriate for painted panels, since the paint thickness does not hinder attachment, and no marring occurs during installation. One tradeoff: An extra step is needed for panel preparation, since the mounting hole requires a countersink.
The third type, floating/flaring-mounted fasteners, can install into stainless steel or any thin panel material, including PC boards, regardless of the panel's hardness. These are similar to flare-mounted types in that they deform during installation, require minimal squeezing force with punch and anvil to flare the retainer, and serve as practical hardware for close centerline-to-edge applications. An added advantage is that they can compensate for mating thread misalignment, offering up to 0.81 inches (2.06mm) of float within the mounting hole.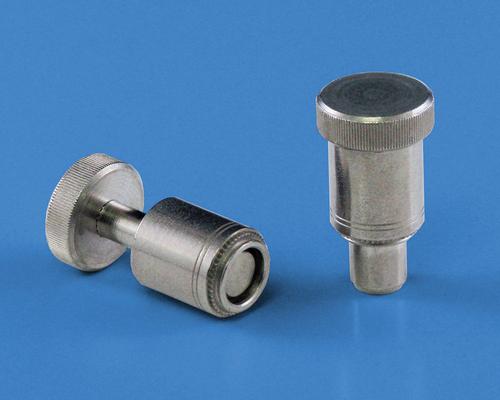 After the mounting style has been selected, fastener features and functions can guide design engineers to the best picks. Particular capabilities -- engineered or otherwise -- can resolve many of the challenges that can be anticipated in an application. Here are how some of these challenges can be readily dispatched.
Avoiding off-angle thread engagement and thread damage during assembly
Self-clinching, flare-mounted, and floating captive panel screws can be engineered with patented anti-cross threading technology, which easily corrects off-angle installations, aligns components, and slides through clogged internal threads. When threads come into contact during initial engagement, the anti-cross threading feature begins to cam over the female thread. The two thread helixes then align perfectly, and fasteners drive normally and quickly with reduced effort.
Specifying this feature can save time and money by eliminating failures, repairs, scrap, and downtime associated with thread damage.
Enabling tool-only access
Several types of captive panel screws have been UL approved for tool-only operation and benefit from fully recessed heads and Phillips drives. These types are especially well suited for applications where security or safety issues can be expected to arise.
Tool-only access also has become a top-of-mind issue due to a recent European Commission machinery directive that imposes strict safety requirements for machine guarding and operator equipment ergonomics. For example, PEM captive panel screws for tool-only access must specifically conform with Machinery Directive 200642/EC, which requires them to remain attached to fixed guards or to machinery when guards are removed. This means loose screws are no longer acceptable.
Preventing overinstallation of the fastener.
A shoulder on the retainer of a captive panel screw provides a unique positive stop during installation and prevents overinstallation. The shoulder can help square up the fastener during off-angle installations.