Questions about the cooling of the Boeing 787's batteries came up again this week, as Tesla Motors CEO Elon Musk publicly stated that the plane's large pack design is a risky one.
"Unfortunately, the pack architecture supplied to Boeing is inherently unsafe," he wrote in an email to Flightglobal.com. "Large cells without enough space between them to isolate against the cell-to-cell thermal domino effect means it is simply a matter of time before there are more incidents of this nature."
Tesla uses lithium-ion battery packs in its Tesla Roadster and Tesla Model S vehicles. Its design involves 6,000-7,000 small lithium-ion cells. Musk told Flightglobal that the cells are separated in a way that makes them less likely than large cells to suffer from thermal runaway events.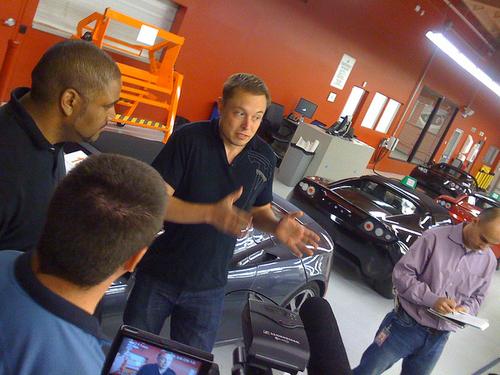 Musk has tweeted his desire to help Boeing with its battery problems, which included incidents in two Japan Airlines flights and a United flight this month. On Jan. 18, he wrote, "Maybe already under control, but Tesla and SpaceX are happy to help with the 787 lithium ion batteries." A few days ago, he followed up: "Desire to help Boeing is real & am corresponding w 787 chief engineer." Shanna Hendriks, a spokeswoman for Tesla Motors, confirmed to us that Musk made the comments on his Twitter account and by email to Flightglobal.
Marc Birtel, a Boeing spokesman, would not verify whether his company's chief engineer has been in contact with Musk. "We're engaged with a number of experts both inside and outside the company," he told us, but Boeing is "not identifying them by name publicly."
The issue of battery cooling has been at the forefront of the Boeing story for a week. Donald Sadoway, the John F. Elliott professor of materials chemistry at MIT who is involved in a battery startup with Bill Gates, told us last week that a forced air cooling system and sensors may be needed to monitor and cool the battery in the event of overheating. Elton Cairns, a professor of chemical and biomolecular engineering at the University of California, Berkeley, and a fuel cell designer for NASA's Gemini spaceflights, also suggested that an air- or liquid-cooled system would be necessary.
Even at low temperatures, the Boeing system could still have been at risk, according to Cairns. "When the plane is at altitude, the air is less dense," he told us. "So even if it's cooler, the less dense air may not have adequate heating capacity to provide enough cooling for the battery. If they don't have active cooling, then I question the adequacy of the cooling arrangement."
Boeing uses eight lithium cobalt oxide cells in its battery packs. According to experts, the cobalt oxide chemistry is known to have higher energy densities than other forms of lithium-ion, so it needs an active cooling system.
Boeing representatives told us that they are not aware of an active cooling system for the 787 batteries. "Obviously, there were multiple backups associated with the battery to ensure the system was safe against overcharging and overdischarging," Birtel said. "But there was not a specific cooling system associated with the battery."
Cairns called battery management ICs (to monitor voltage and current) an important part of a safe pack, but he also said energetic batteries often need more than that.
"The electrical system that manages the battery is not a complete battery management system," he said. "In my view, a complete battery management system includes the dispersion of any heat that is generated by the operation of the battery. Just having protective circuits is fine, but it is absolutely insufficient."
Related posts: