While some robots are programmed for repetitive actions with routines that specify the direction, acceleration, velocity, and distance of a series of coordinated paths of motion, more mobile robots are being built with autonomous decision-making capabilities, requiring more advanced motion control. Whether it's considered artificial intelligence or not, it's becoming an increasingly important factor in mobile robotics.
Within the discussion of robotic mobility and artificial intelligence is a technological aspect often referenced in pop culture: socially-assistive robotics. Socially-assistive robotics aims to use mobile robots for more than moving parts through a warehouse; it improves human interaction in situations where technology can enhance the social experience.
Robert Doornick, president and founder of International Robotics Incorporated (IRI), knows social robotics -- it's his business and his passion. Doornick has pioneered the field of social robotics and the research surrounding it for more than 35 years.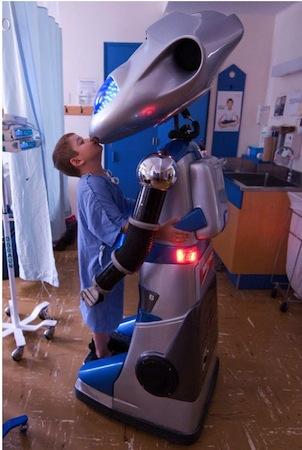 "We started by designing the mobile robots to be surrogate communication tools for special needs children. What we observed early on was that this technology helped the children to communicate more freely with the outside world because there was no fear of judgment in body movement or facial expressions," Doornick said. "Those with autism are especially receptive to Millennia, our newest mobile robot."
Autism is a developmental disability, which often includes delayed speech, a lack of interest in relationships, and limited eye contact. According to the Autism Society, 1 percent of American children ages three to 17 have an autism spectrum disorder.
According to Doornick:
In the robot's presence, a magical change occurs where intellect, physical appearance, abilities, or handicaps suddenly become unimportant. Such a therapeutic experience is made possible by the non-human attributes of the robot. His interlocutors are never placed in a situation where the children feel obliged to 'compare' themselves to the robot or be concerned with how the robot may perceive them.
IRI has taken its social robots to clinics, hospitals, rehabilitation centers, schools for the hearing and sight impaired, and more. While the majority of their goodwill visits occur free of charge, Doornick supports these visits by employing his social robots for talk shows, tradeshows, television appearances, and corporate events. In all situations, he observes the necessary conditions for the ultimate human-robot interaction experience:
When humans hear speech, we associate it with human behavior and have high expectations for the interaction. Our robots are remotely controlled but don't speak with a robotic voice, which make the robots immediately relatable and establishes a connection that's acceptable. The movements are also extremely important. The robots need to be slow with closed-loop feedback systems to detect bumping into things or people, fluid enough to mimic human movement, and quiet enough that you forget it's a machine.
To ensure his social robots move in the most quiet, fluid manner, and are remotely programmable, Doornick moved from DC motors to fully-integrated servo motors with advanced controllers, primarily relying on the SmartMotor for its program capacity and ability to quickly calculate complex sequences of movement.
We wanted to upgrade our robots to become programmable and animated, with the ability to be remotely controlled with complex movement sequences, such as dancing or using gestures to illustrate a story it's telling. Our talented Mannetron engineering team found that the SmartMotor had a good weight-to-torque ratio with the precise closed-loop movements we were trying to create and it could all be connected to a central computer -- head, arms, waist, and neck. We've been using Animatics' products for over 10 years and have world-class, extremely life-like mobile, social robots.
Chuck Searcy is a senior applications engineer at Moog Animatics.
Related posts: