Building the ecosystem
Despite the many advantages that mobile payments can bring, this new technology must overcome the major hurdle of building the necessary infrastructure. Why should a gas station install an NFC reader if very few customers have smartphones with embedded NFC cards? Conversely, smartphone manufacturers want to see more evidence that merchants are installing NFC-ready terminals.
To address such problems, companies at the forefront of mobile payments, such as credit card firms, telecom companies, and smartphone makers, are ramping up pilot programs and offering incentives to entice adoption of the new technology. Isis (a partnership established by AT&T, Verizon, and T-Mobile) is offering cash incentives to consumers in Salt Lake City and Austin who link their Isis wallet to a funding source. About 10,000 outlets in those markets, including gas stations, stores, and the Utah Transit Authority, have installed NFC equipment. In Austin, Coca-Cola is testing 200 vending machines outfitted with contactless readers that accept Isis payments, and the company plans to roll out thousands more units in the coming year. A new Isis Smart Tap application is being integrated into Gilbarco Veeder-Root and Wayne fuel dispenser payment terminals, allowing consumers to pay with smartphones at the gas pump.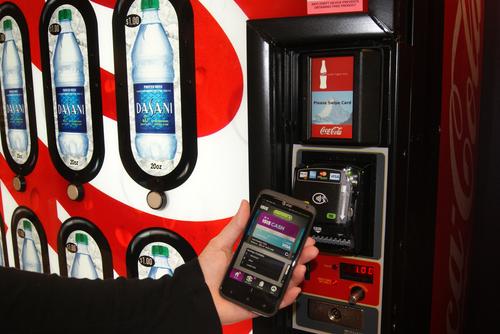 Other mobile payment leaders are promoting cloud-based mobile payments with minimal hardware investments. PayPal's in-store checkout solution, which is being backed by 23 major retail chains, lets consumer make purchases simply by keying their mobile phone number and PIN at the point of sale. Taking that one step further, Square's Wallet app uses your smartphone's built-in GPS chip to check in at a retail location. When you are ready to pay, you simply say your name, and the clerk can verify your profile picture through the cloud and complete the sale.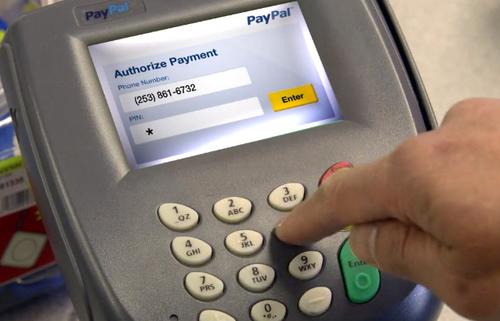 Major credit card companies are driving the move to mobile payments by enticing more banks and merchants to adopt EMV technology, a smart card with an embedded chip. Since the chip can hold much more information than a credit card's magnetic strip, EMV supports multiple methods of authentication. Because EMV makes credit purchases (including contactless ones) more secure for merchants and consumers, the technology has triggered a shift in liability for credit fraud from banks to vendors.
The EMV standard is already entrenched in Europe, and Visa has launched a Technology Innovation Program in the US that reduces security compliance validation requirements in any year in which at least 75 percent of a merchant's Visa transactions take place at EMV-enabled POS terminals. About 45 percent of all payment cards and 76 percent of all payment terminals globally are based on EMV technology, according to EMVCo, the standards body jointly owned by American Express, JCB, MasterCard, and Visa.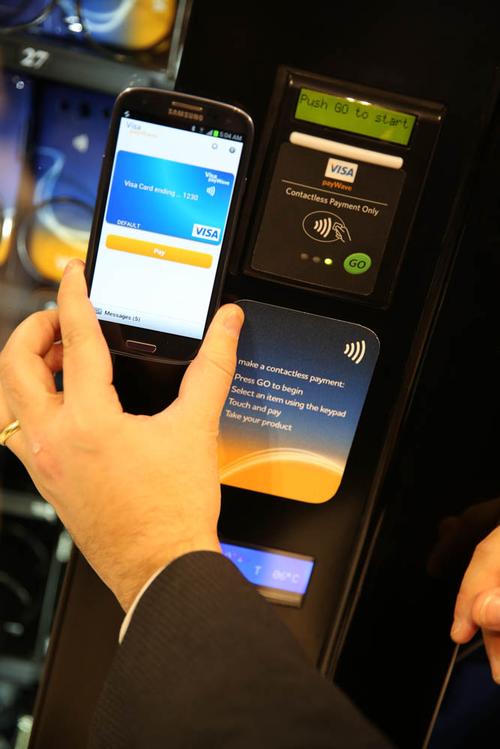 Prime application targets
Engineers, IT professionals, and others working to integrate mobile payment technology will find an increasing array of potential applications, from retail stores and gas stations to fast food restaurants, vending machines, and ticket outlets for airlines and mass transit systems, just to name a few. If mobile payments can shave 20 seconds off the average 160-second drive-through restaurant purchase, that's huge for the store's owner.
In designing a mobile payments solution, such as an NFC-enabled automated kiosk, engineers can simply buy a PIN pad from a payment terminal OEM like Ingenico, IBM, or VeriFone and attach it to the kiosk. Such turnkey solutions are a big plus when you are trying to get to market fast. Other brands, however, may want to create a unique customer experience that's consistent from end to end. In those cases, the challenge is to bring together an embedded computer with such readily available hardware components as touchscreens, NFC chipsets, wireless antennas, modems, and transceivers.
A bigger challenge in such do-it-yourself solutions is taking responsibility for the necessary software, which must link to the gateway service that aggregates transactions and pushes them through to the financial institution. Many payment gateway services provide the necessary software kernels, which may save you from having to hire a certification body to prove your compliance with payment card industry data security standards.
Finally, whatever route designers take in building a mobile payment capability, it's important that their solution be interoperable with as many of the major vehicles in the marketplace as possible. Even if my kiosk has been designed to accept Isis, it probably should also handle payments through other NFC networks and even contactless smart cards.
In making these design choices for mobile payments, the question really boils down to this: How much do I want to control the user experience? Brand-conscious companies like Disney may feel it's worth taking on more hardware and (particularly) software risk to develop systems with a unique shape and feel. Industrial design can play a big role in that process as companies explore concepts to determine who they want to be to the buyer.
Though mobile payment technology is still in its infancy, companies are already at work on systems that will verify the authenticity of a purchaser through biometrics, such as fingerprint and even voice or facial recognition. Almost instantly, biometric input at the point of sale is compared with the user's data on file in the cloud. As that technology catches on, the purchasing process will accelerate even further, and those frustrating queues will begin to disappear.
Tim Ingold Jr. is the director of technology and innovation at Jabil Circuit Inc. in St. Petersburg, Fla.
Related posts: