Using only the demo version of the DirectSOFT 5 software, which limited me to 100 instructions, I programmed the DL05 for the following operations:
An always-running monitoring stage that counts revolutions and calculates rpm.
A startup stage that opens the turbine and engages the motors at the prescribed rpm.
A shutdown stage that fully closes the turbine and disengages the motors.
The shutdown stage was triggered by any of three conditions: the shutdown button being pushed, an auxiliary contact on the motor contactors opening (meaning AC control power was interrupted), or rpm out of normal operating range.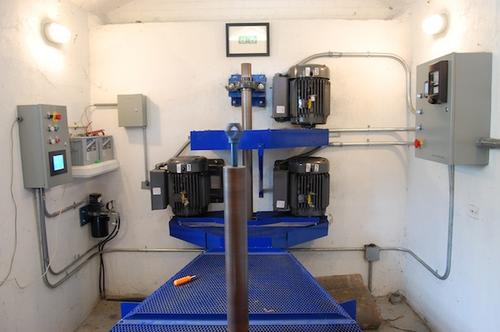 Making, measuring, and monitoring power
In May 2008, we signed an interconnection agreement with Mid-Carolina Electric Cooperative (MCEC) and its supplier, Central Electric Power (CEP). In June 2008, we began feeding power into the grid.
Throughout the summer, we started and shut down the plant manually at our discretion, taking into account the lake level and the utility's time-of-use tariffs. The utility paid us nearly double for power generated during peak demand summer hours -- a financial incentive that remains to this day.
Later that summer, we installed a submersible water level sensor to monitor the lake. This 4–20mA device was wired into an AutomationDirect four-channel analog current-input module added to the DL-05 PLC.
Upgrading to the full version of DirectSOFT 5 added capacity and programming capabilities. I could now program the system to shut down automatically when the lake level fell below a certain point. I also added an autostart function that started generation whenever the level rose above the spillway in the dam. However, we still needed to know how much power we were producing.
Though it's possible to use transformers and signal conditioners to get voltage and current information into a PLC, it's complicated in terms of hardware and ladder logic. Instead, we purchased an AccuEnergy Acuvim II panel-mounted power meter. By installing it and an AutomationDirect RS-232/RS-485 converter, I could poll the power meter over MODBUS to determine volts and amps, instantaneous kW, cumulative kWh produced, the power factor, frequency, and other relevant power parameters.
However, I was only able to see these operating parameters by remotely logging into the computer and looking at the DirectSOFT 5 programming software's data view window. It enabled me to do some rudimentary remote control, such as starting or shutting down the plant, but it certainly wasn't user friendly.