Electrically conductive silicones are used in many applications where high- and low-temperature use is required (-60°C to 250°C). Silicones also offer some degree of moisture permeation and are often the preferred choice for device applications that require direct skin contact. However, silicones do present the disadvantage of lower adhesive bond strengths once additives, such as carbon or metal particles, are added to the formulation. Also, as is the case in many sensitive electronic applications, silicones cannot be used when silicone contamination is an issue during the manufacturing process.
Rubber-based electrically conductive adhesives can be used in many device applications, but they are not the ideal choice for applications requiring exposure to high temperatures. Because rubber-based PSAs are typically formulated using synthetic rubbers such as styrene-butadiene-styrene (SBS), styrene-isoprene-styrene (SIS), tackifiers, and plasticizers, the polymer becomes too mobile at temperatures higher than 70°C, resulting in disruption of the conductive property. Rubber-based systems also present the potential for long-term stability issues due to unsaturation in the polymer backbone, although some of these issues can be overcome with the addition of stabilizers.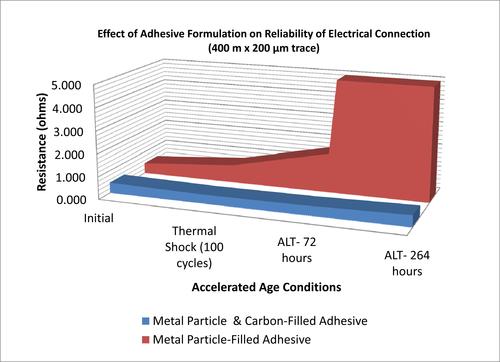 While silicone and synthetic rubbers have their own unique performance benefits, acrylic electrically conductive adhesives are the most popular backbone choice for many applications. The formulation flexibility emanates from the choice of monomers available to build the polymer. Traditional acrylic-based polymer PSAs employ a variety of functional monomers to achieve specific adhesive properties. Functional groups such as acid, alcohol, or amines can also be used for subsequent crosslinking of the polymer. These modifications enable the long-term reliability of the adhesive by restricting polymer chain movement during temperature cycling.
Electrically conductive clean adhesives
With the advent of thin film metallic coatings on plastics such as indium-tin oxide and silver, device manufacturers must take precautions to select materials that do not contribute to the corrosion of these sensitive conductive coatings. Materials making direct contact with these surfaces, such as adhesives, can cause corrosion, or outgas, which causes fogging and other performance issues inside sensitive electronic devices. Any presence of corrosive components or residuals from the adhesive's polymerization process can contribute to these problems.
Acrylic polymers can be modified to prevent degradation of these sensitive coatings. This is accomplished through the appropriate choice of monomers and polymerizing the adhesive system to a very high conversion to create a low-outgassing formulation.
Electrically conductive structural bonds
Traditionally, costly silver and gold-filled epoxies are used for bonding applications with very thin contact points. With the proper formulation, acrylic PSAs can be modified to provide structural bonds to potentially replace expensive silver and gold epoxies.
These unique acrylic PSAs are cured with additional energy in the form of light (UV or lasers) or heat to form electrically conductive structural bonds. These systems are capable of bond strengths of 200-300psi, as compared with 25-50psi for traditional PSAs. In addition, these systems enable the use of thinner bond lines, which is a limiting factor with traditional PSA systems, as they require a larger surface area to deliver the same bond strength.