Our survey results were solid on measures of respect and longevity, two traditional signposts of career satisfaction. Sixty-eight percent of you felt appreciated, and 65 percent believe engineering is a respected profession.
Eighteen years is the average length of service in engineering among all respondents, whose average age is 49. However, 56 percent have been plugging away for more than 20 years. You've been pulling into the same parking lot each working day for 13 years, on average, and have spent nine years in your current job title.
Such fears may be realistic, given that 28 percent of you reported that your company experienced a downsizing in the past six months, and another 18 percent reporting a hiring freeze. At the same time, 45 percent said their companies were adding personnel.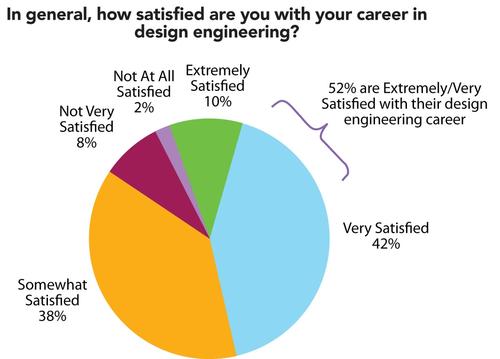 Clearly, fallout remains from the tight hiring conditions of the past several years. Thirty-eight percent of respondents said downsizing has saddled them with addition responsibilities. "Scheduling factory activity is more challenging with fewer workers but the same published lead times," says Joe Hermann, director of engineering at air distribution equipment maker Raymon-Donco.
At first glance, our data on work-week duration doesn't seem to correlate with the overwork complaints. Forty-five percent of respondents reported logging 40 to 44 hours weekly. Another 27 percent pegged their time on duty at 45 to 49 hours. Only 23 percent put in 50-plus hours per week. The overall average was 46 hours.