Unreinforced nylon, or polyamide (PA), is another material class that provides very good mechanical and low-friction properties; however, with moisture absorption, tensile strength and modulus decrease whereas elongation and toughness increase. Nonetheless, nylon remains an excellent choice for applications requiring good fill properties in thin sections, and hydrolytic resistance to low-cycle, autoclave, steam sterilization conditions. The most common unreinforced PA polymers used are PA6, PA66, PA612, PA11, and PA12. The latter three PA polymers tend to be less affected by moisture absorption than PA6 or PA66, and thus offer improved dimensional and physical property stability.
While medical device designers seek a desired balance of strength, stiffness, and toughness, functional components often need to be highly rigid, and should not significantly deform under applied loads, even over extended time periods. Glass-reinforced nylons based on these same five polyamide polymers are good metal replacement candidates because they offer high strength, stiffness, and creep resistance combined with outstanding toughness. Glass fiber reinforcement also tends to mitigate the property and dimensional effects of moisture absorption, but it can result in potential warping issues due to fiber orientation effects. This needs to be considered in both part and tool design.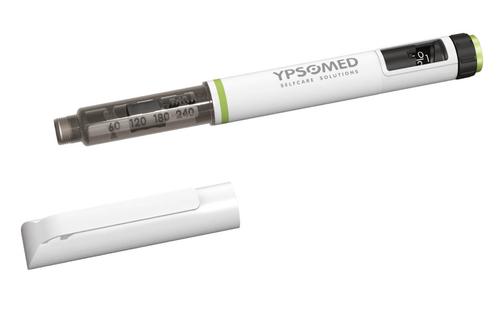 Thermoplastic elastomers (TPEs) are candidates for parts requiring flexibility. Some TPEs are available without plasticizers, such as DuPont's Hytrel thermoplastic polyester elastomer (TPC-ET). It combines many desirable characteristics of high-performance elastomers and flexible plastics, such as flex fatigue resistance and excellent toughness. Its block copolymer characteristics enable stiffness to be varied within the Shore Durometer D30 to 82 hardness range as required, without the associated concerns of migrating plasticizers. This property makes this material attractive for drug-delivery devices where low extractables performance is important. This material can also provide improved ergonomics, such as a soft-touch grip surface, by utilizing a two-shot injection molding process with a compatible, rigid, substrate material such as PBT, ABS, polycarbonate (PC), PC-ABS, or PA.
Integrated functionality
Semi-crystalline engineering polymers are helping device manufacturers address relentless cost pressures, as well as emerging trends including patient demand for smaller and more discreet devices. Integrating mechanical and assembly features into fewer injection-molded parts is one way to miniaturize the device and reduce overall cost. This can be achieved by incorporating springs or flexing parts into rigid components using snap-fits. Printing or laser marking functional parts may eliminate the need for parts that serve esthetic purposes only. The mechanical demands and the thin-section molding requirements of these devices are often best served with high-performance semi-crystalline plastics.
An innovative drug-delivery system that uses combinations of engineering plastic materials for optimal performance is the reusable insulin pen designed by Industrial Design Consultancy Ltd. Developed for diabetes treatment, the pen offers a portable, discreet, and easy insulin dosage system for mobile users. The device is the size of a marker, manufactured entirely from thermoplastics. IDC selected an acetal homopolymer resin, a common material choice for device actuator components, for the clutch tube and locking sleeve; nylon resin for the drive shaft, inner housing, thumb pad, and piston rod cap; and PBT for the printable dose dial and rigid clip parts.