Automation & Motion Control
Match materials to the application

Connector materials: Consider the type of media that will be flowing through the connector, which can affect its strength, surface appearance, color, and performance. In addition, consider any cleaning solutions or other chemicals (bleach, hydrogen peroxide, or isopropyl alcohol, for example) that may be flushed through the connector or wiped on the exterior. Some high-end applications involving stronger acids or solvents may require connectors made of special polymers such as PEEK and PVDF.

For high-purity or life-science applications, another consideration is the effect of sterilization techniques (gamma ray, electron beam, ETO, and autoclave) on connector materials. Metals or high-temperature polymers such as polycarbonate or polysulfone can be used for connectors that will be subjected to multiple autoclave sterilization cycles, as well as applications with higher operating temperatures.

In addition to media compatibility and the impact of sterilization methods, connectors for life science applications must also meet biocompatibility requirements. The base materials and manufacturing methods should be evaluated for their impact on the media, and depending on the application, the human body. ISO10993 standards help to determine the testing required based on the type and length of exposure.

Metals can also be a good choice for mounted connectors, offering both the strength and durability required for mounting on equipment and a higher-end appearance. Plastics, on the other hand, may be a more cost-effective solution while still providing the robustness required for many mounted applications.
Manufacturers' catalogs have chemical compatibility charts and sterilization guides to help narrow the choice of materials. Here, however, is a general rundown of connector materials, along with guidelines for their use: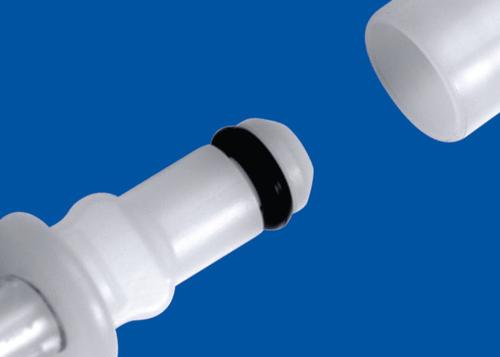 Plastics

ABS: Medical-grade thermoplastic that withstands gamma and E-beam sterilization. Offers good physical properties and resistance to chemical attack.
Acetal: Strong, lightweight and economical material that has good rigidity over a broad temperature range, with toughness and durability.
Polyamide (nylon): Very resistant to wear and abrasion, with good mechanical properties at elevated temperatures. Low permeability to gases and good chemical resistance.
Polycarbonate: Resistant to some chemicals, transparent and withstands sterilization. Features high-impact resistance, outstanding dimensional stability, and good optical properties.
PEEK (polyetheretherketone): Engineered thermoplastic with high temperature, chemical, and fatigue resistance, along with superior mechanical and electrical properties.
Polyethylene: Low-cost, chemically resistant thermoplastic that is opaque and withstands elevated temperatures.
PPS (polyphenylene sulfide): Exhibits the broadest resistance to chemical attack of all engineered plastics.
Polypropylene: Excellent general-purpose resin that is highly resistant to attack from solvents and other chemicals. Resistant to environmental stress cracking and suited to challenging environments.
Polysulfone: Rigid, strong, and chemically resistant, it withstands repeated sterilization and higher temperatures than other thermoplastics. High hydrolytic stability allows autoclaving and steam sterilization in medical applications.
Fluoropolymers

PTFE (polytetrafluoroethylene): Offers very high chemical resistance and stability at high temperatures.
PVDF (polyvinylidene difluoride): Tough engineered thermoplastic with a balance of physical and chemical properties that makes it suitable for high-performance applications.
Alloys

Aluminum: Lightweight metal with a high strength-to-weight ratio, available with a durable anodized finish. Nontoxic, nonmagnetic, and non-sparking.
Chrome-plated brass: Rugged and attractive, this metal is excellent for high-pressure and high-temperature applications.
Die-cast zinc: Weighing about 20% less than brass, this durable and lightweight material withstands high pressures and temperatures.



Remote monitoring now looks beyond the individual motor or conveyor and instead views the process from end to end.
BASF is partnering with Hyundai on a high-performance concept car that showcases both eco-friendly, sustainable materials and materials to enable lighter weight cars.
In an move to ease the use of multiple product design tools, PLM provider Aras and EDM company Zuken have integrated their products.
General Motors is putting an off-road twist on hydrogen fuel cell technology with an imposing new pickup demonstrator called the Chevrolet Colorado ZH2.
Fine powder printing of industry-standard metal and ceramic powders with a grain size of less than 10 microns is now available from industrial 3D printer maker ExOne for its Innovent printer.

Focus on Fundamentals consists of 45-minute on-line classes that cover a host of technologies. You learn without leaving the comfort of your desk. All classes are taught by subject-matter experts and all are archived. So if you can't attend live, attend at your convenience.
Next Course September 27-29: