LEGO is the expert in the benefit of hands-on learning and the importance of building on fundamental engineering skills. Today, more than 3 million students create, build, program, and succeed using the LEGO MINDSTORMS platform.
In the robotics programs using these platforms, students learn core engineering concepts, problem solving, and leadership skills, and they are linked directly to increasing the number of students who will pursue careers in engineering and science.
Programs such as FIRST (For Inspiration and Recognition of Science and Technology) have executed on the concept of building fundamental skills throughout a child's progression through the educational continuum and have built a series of corresponding robotics competitions. These range from Junior FIRST LEGO League, which introduces six- to nine-year-olds to fundamental robotics concepts, to FIRST Robotics Competition, an international competition for high school students that strives to make robotics competitions as cool for kids as professional sporting events.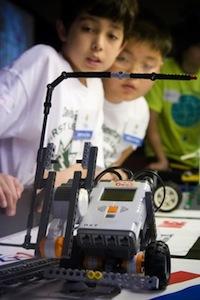 In fact, 99 percent of FIRST participants reported graduating high school and 89 percent went on to college, according to the Brandeis University national evaluation of FIRST. Those students were also nearly three times as likely to major in engineering.
But none of this would be possible without the mentors that make FIRST possible. The mentors are the secret sauce who share their knowledge, teach students essential engineering concepts, and are real-life inspirations to the next generation of innovators.
Robotics clubs and competitions are a great start to inspiring the next generation, but they are still primarily just after-school activities. If we know how successful these hands-on experiences are in keeping students engaged, why are they not part of the core curriculum of grade school science and mathematics classrooms?
Creating an inspired classroom where lesson plans give students "aha" moments using techniques and tools the pros use to apply mathematical models to real-world data is critical to inspiring students. Educators need to provide students with interactive and fun lessons that are academically rigorous and deliver fundamental concepts that bring theory to life, and that's hard work.
Students of all ages need access to hardware that lets them experience early successes and scales to their abilities, eventually allowing them to learn on the same technology they will see after graduation. By creating tools for students that can be taken out of the lab and into their worlds, we enable them to learn how to design and build systems.
Do you agree with this but are not sure what you personally can do about it to inspire the next generation?
Think back to what inspired you to pursue a career in engineering and science and look for opportunities in your community to inspire the next generation of innovators.
Find out what's going on in FIRST in your area and sign up to be a mentor. Volunteer at a local school with their classroom robotics program or robotics club. Insist that educators adopt a teaching platform that not only engages students with hands-on science and engineering, but also prepares them for the jobs of tomorrow.
Related posts: