Understanding the glass transition temperature
In practice, the glass transition temperature for a given compound is reported as a single temperature, Tg, which represents the range of temperatures over which a cured epoxy transitions from a hard, glassy state to a softer, more rubbery state.
There are three main methods used to determine glass transition temperatures: differential scanning calorimetry (DSC), thermomechanical analysis (TMA), and dynamic mechanical analysis (DMA). Each method measures a different physical phenomenon that is characteristic of the phase transition. Consequently, each method produces a slightly different result.
Differential scanning calorimetry
In DSC, the glass transition is identified by observing the change in a polymer's heat capacity as temperature rises. The underlying principle is that, when a material is undergoing a phase change, more or less heat must flow to it to keep it at the same temperature as a reference sample. A small sample of the material is heated along with a reference material in a calibrated thermocel, and the difference in heat flow between the two samples is observed. A shift in the differential heat flow occurs as the sample material transitions from the glassy state to the rubbery state, as shown on the previous page. Tg is defined as the temperature at the inflection point of this shift.
DSC is a popular method for measuring Tg, since it is less costly than the others. However, it has a number of drawbacks. It is more limited in scope and sometimes not as accurate as the other methods. In some cases, the differential heat flow is so small that it is not easily detected. For polymers with high filler loadings and higher crosslinking densities, phase transition is very difficult to observe using DSC. Because the typical sample size is measured in milligrams, DSC samples may be too small to represent the polymer material as used in an application.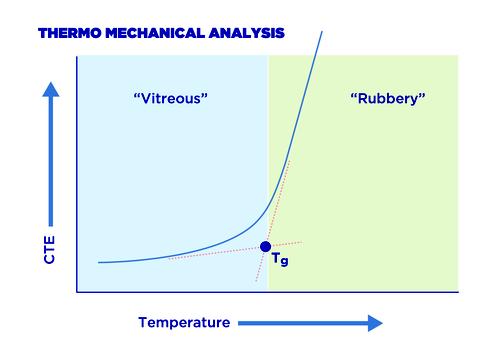 Thermomechanical analysis
TMA is the technique commonly used to determine a material's CTE. By observing changes in the material's thermal expansion coefficient as a function of temperature, TMA can also be used to determine Tg. During a material's transition from a glassy state to a rubbery state, changes at a molecular level result in increased movement. Consequently, the CTE increases noticeably during the phase transition.
TMA involves placing a sample of a material on a calibrated platform and heating the sample while an instrumented probe measures its dimensional changes. Tg is identified as the temperature at which there is a noticeable shift in the dimensional change of the sample, as shown above. TMA is considered a more sensitive method than DSC for measuring Tg, particularly for filled systems.