A completely new type of machine
Rink designer Arno Glatzel, with the help of Staave, constructed a new machine that automates the task of removing a bottle's neck sleeve -- the portion of plastic left below a bottle's screw cap -- without damaging the bottle. The machine achieves this by holding the bottle directly above and below the threads on the neck while using a special knife that scrapes the bottle neck. An automated gripper then pushes the sleeve downward without causing any damage to the bottle.
The machine uses iglide plain bearings and a DryLin W linear guide system to facilitate the motion of the system. DryLin W was an ideal choice because when used as a double-rail system, there is no need to align the rails.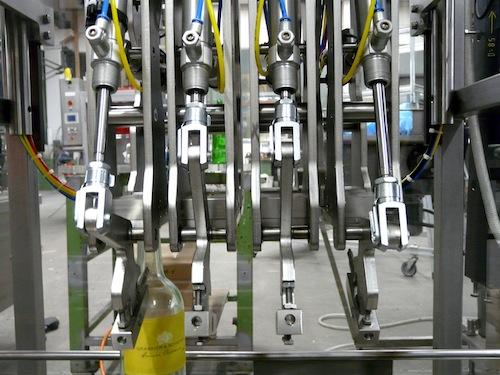 Dr. Michael Baker, managing director of Rink GmbH, told me:
With the new design, we had the chance to devise innovative solutions and use modern design elements. In this case, [we chose] iglide plain bearings for the [automated gripper] system that grabs the bottle and DryLin W guide elements for the handling unit. DryLin W guide elements compensate for [any welding] inaccuracies and achieve a very long life even under [harsh] conditions.
With this new machine, Rink is able to meet very specific requirements within the bottling industry. "The flexibility of the equipment is important," said Baker. "The systems can process a wide range of bottles... and the low maintenance costs through the use of maintenance-free igus bearings is advantageous from a customer perspective."
Self-lubricating plastic bearings replace bronze bearings
In another Rink machine used to uncork or unscrew bottles and then place them into boxes, DryLin linear plain bearings were used to replace bronze bearings. The bearings are used in the machine's hood, which has a stroke of 400 millimeters and achieves 1,200 strokes per hour.
"We were able to replace bronze bearings [with DryLin linear plain bearings]. By purchasing the part, we save money and the customer appreciates the low maintenance as a major advantage in the total-cost-of-ownership considerations that are now standard in the beverage industry."
Michael Hardy is marketing specialist for igus Inc.
Related posts: