For such advanced systems, automakers need substantial improvements in HUD technology. The image source for many existing HUDs is an LCD panel backlit by LEDs, which limits the display's brightness. Pixel count is currently 360 by 180, and the field of view (FOV) angle is constrained to a range of 4 degrees x 2 degrees to 6 degrees x 2.5 degrees. The result is a very small display area, measuring 180 mm x 90 mm, shown at the bottom of windshield. Projection distance for the image is just 2 m to 3 m in front of the driver.
The virtual image area in advanced HUD technology needs to get much larger. To accomplish that and create the augmented reality experience, automotive companies would like to see systems with a FOV angle of 7 degrees x 3 degrees to 10 degrees x 5 degrees, which would allow virtual images to be projected as much as 15m in front of the driver.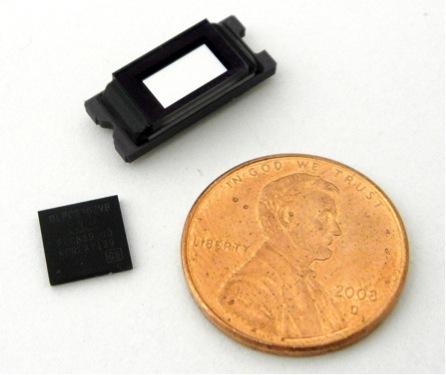 Dashboard space for HUDs also presents challenges, particularly in future plans to integrate the technology into smaller cars. Systems today typically take up a volume of four liters, and conventional HUD systems might require a volume of up to six liters to provide the augmented reality experience.
Where digital light processing meets optics design
To meet these advanced requirements, one design team developed a next-generation HUD design using a Texas Instruments' Digital Light Processing (DLP) chipset as its image source. (See Figure 2.) This part has been employed for many years in projectors and many other consumer electronics products. The DLP chip contains an array of up to eight million, hinge-mounted digital micro-mirrors (DMDs), each measuring less than one-fifth of a human hair. When a DLP chip is paired with a projection lens, its mirrors can project an image on any surface.
Jabil engineers have designed a cost-effective HUD optical module that combines the company's own optics expertise with the inherent advantages of the DLP chipset. The result is a HUD with a larger display area, higher brightness and contrast, and a wide dimming range required for image clarity in bright sunlight and nighttime driving. The virtual image size can be adjusted and positioned on the windshield to match the specifications of the HUD supplier or the automaker. Software-based augmented reality elements, such as navigational indicators, real-time landmarks, and safety warnings, can also be integrated into the display to help create an augmented reality experience.
Albrecht Richer is the senior director for design engineering at Jabil, based in Jena, Germany.
Related posts