How do I support mechatronic engineers?
Finding engineers that have a good understanding of all three engineering disciplines can be challenging because the concept is relatively new. While there are many colleges that have had variations of the mechatronics concept in their curriculum for years, they aren't necessarily using the moniker needed to quickly identify mechatronic engineers. Furthermore, when engineers are hired, it's common to hire mechanical engineers, electrical engineers, and programmers.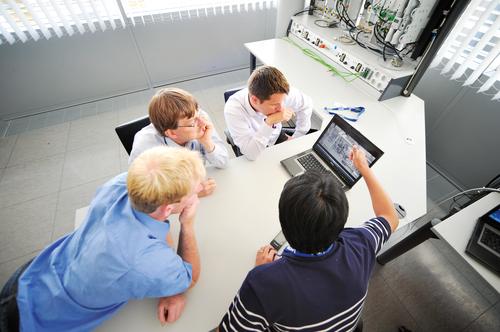 Therefore, the best plan to secure mechatronic engineers is to create an effective engineering program. Here are a few strategies that can help provide the structure needed for mechatronic experts:
Start at the top. Plan time into the schedule for research and development. Start by reworking an old design using a cross discipline approach. Businesses that are under constant pressure to get machines out the door will not have the time to let their engineers collaborate and grow mechatronic concepts.
Stay current. Always stay abreast on the latest technology and trends. There is a constant stream of innovation provided by the market that can improve the way you build machines. For example, many vendors now have software that combine panel layout with drive sizing and cam design. Motor-mounted drives can eliminate electrical cabinets, which have an impact on the mechanical design of a machine.
Set goals and reward. When you set the scope of a mechatronics effort, make sure there is an achievable goal, such as 20 percent parts reduction, reliability, etc. Your sales team can share these goals with customers. And, the effort should be rewarded in order for the engineering team to realize the importance of the goal.
Cross train. Make sure a plan is in place to provide all of the detailed project information to the mechatronics engineers. A mechanical engineer that understands the potential of a control system will be more likely to simplify mechanical solutions. An electrical engineer that understands the "five simple machines" of physics will be more open to apply an open loop system, or a smaller controller. A software engineer that understands "three sides of control" can synchronize the motion of a machine to guarantee that product is safely moved through the machine.
Support change. Like mechatronics, innovation is the combining of common elements to create something new. What is a smartphone? It is a phone, camera, MP3 player, and a touchscreen combined in one. And it's based on a CPU technology, so it's capable of so much more. The same holds true for a machine. You have HMI, logic, and motion on one touch panel; you've replaced servos with IP65 closed loop induction motor modules for cost savings and better inertia matching. Mechatronic engineers know that they're a step away from tool-less changeover and data collection.



A researcher from The Ohio State University has designed objects that harness vibrations from the movement of swaying buildings or bridges to provide alternative energy.
Oak Ridge National Laboratory has developed a carbon fiber production method it wants to share with you: a faster, cheaper, greener method for manufacturing industrial-grade structural carbon fiber.
This slideshow includes several versions of multi-materials machines, two different composites processes including one at microscale, and two vastly different metals processes. Potential game-changers down the line include three microscale processes.
Members of the IEEE Computer Society name cybersecurity as the top technology affecting their industries.
Hosted CAD or PDM systems is an emerging technology that offers many advantages over traditional on premise workstation CAD configurations and is making many companies rethink how to deliver future CAD software solutions.

Focus on Fundamentals consists of 45-minute on-line classes that cover a host of technologies. You learn without leaving the comfort of your desk. All classes are taught by subject-matter experts and all are archived. So if you can't attend live, attend at your convenience.