Modular design
Modular design reduces the need for multiple final product designs, reducing manufacturing complexity and allowing for an optimized process. It does this without sacrificing customer-driven demand, which is a challenge faced by design engineers worldwide. As customers drive demand based on application needs, maintaining an optimized process and achieving a competitive advantage in the market requires an innovative design approach. Latching products that feature a modular design system offer a solution to this challenge. These products provide customers with numerous choices for their applications, such as method of actuation, locking or non-locking, and single or multi-point latching. At the same time, they fit into a single cutout size and panel preparation. Specifying products that incorporate modular design will significantly speed the assembly line by eliminating the need for time-consuming changeovers from one panel preparation to another, in an effort to accommodate different customer demands.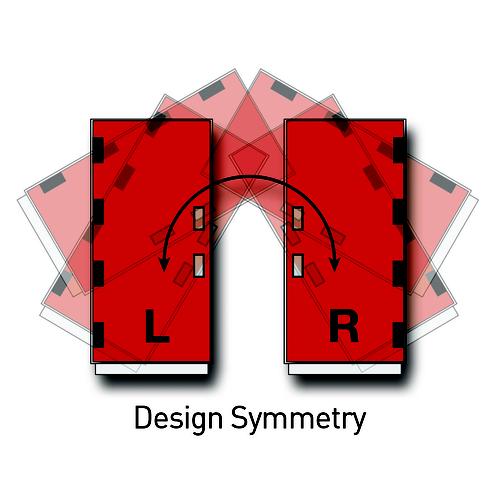 Design symmetry
Design symmetry provides easily exchangeable finished products while effectively managing inventory levels and simplifying the manufacturing process. Design symmetry allows for the production of right- and left-hand doors without having to change the panel preparation or use different latch and hinge hardware. As only one panel preparation is needed for both right- and left-hand door applications, the manufacturing process for the door panel is simplified since only one door layout is required. Depending on customer requirements, right- or left-handed applications can be created by simply reversing the direction of the door. Much like modular design, products that feature design symmetry reduce inventory levels and eliminate the need for production line changeovers to accommodate different customer demands.
Throughput efficiencies
Throughput efficiency is considered a key performance measurement for any manufacturing process. The traditional model of form, fit, and function for fastener, latch, or hinge selection can be expanded to include modular design, design symmetry, tool-less assembly, and process reliability to achieve an optimized manufacturing process. These important factors can affect throughput and must all be considered as critical factors for evaluation during the specification phase of a design. Any one of these considerations can improve a process. However, when combined, these four systems and technologies will have a positive impact on throughput performance with fewer delays, better quality, and quicker time to market.
Design driven operational efficiencies are achieved when the right fastener, latch, and hinge products are specified early in the design process. Design engineers can take advantage of new technologies and design systems that have been incorporated into traditional fastener, latch, and hinge products. These can provide individualized solutions to meet customer demands and achieve a fully optimized manufacturing process.
Greg Breads is product manager for DIRAK Inc.
Related posts: