Burton added:
These new beams can be produced at up to 600 ft/min, so it's an interesting area for automation. Mills have typically had five to six people climbing over the loads to staple them, which caused accidents and worker compensation issues. Automation gave them an opportunity to use these workers in different roles, away from non-value added functions. Now they are part of running the monitors, controls, and systems required to keep production running at that fast rate.
With increased communication and coordination between the robots, the product is coming off the line and final layup is approximately 80 ft lengths. Then it moves into an in-process area where, according to the load request for beams, they are cut into 12 ft to 60 ft beams.
The system doesn't know until it goes through the final saw operation and is fed out, whether it will be wrapping a 12 ft, 30 ft, 40 ft, or 60 ft length. But by calculating in real-time the length of the film required to wrap that specific load, the system is able to receive the information on whether it will be converted into a bundle of 40 ft or 60 ft beams.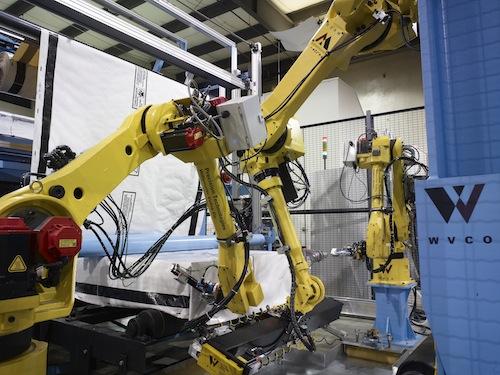 The system uses one FANUC Robotics M–710iC/70 robot, two M–16iB/10L robots, and one M–20iA/10L robot to complete the process. Previously, four or five people worked on the manual system. While one worker remains in place providing system maintenance, the remaining workers have been moved to more value-added, non-hazardous maintenance positions.
A unique feature that the system offers is its carousel arrangement with four different rolls for different-sized beams. This simplifies the load changeover significantly from manual operation and workers directly involved with the process. It makes it much faster and safer to keep up with products coming in from the layup line. The higher level of automation also helps to reduce scrap and maximize yields, along with loads that were scrapped because they didn't get wrapped properly.
Burton said:
In the past, lines could be delayed in the process because they weren't wrapped right by the individuals, or workers were not available and ready for the next wrapping operation. An indirect impact of the automation is the consistency it brought to the operations by increasing throughput and quality. We typically find customers looking for a system payback that is two years or under, but the majority of projects are at least half of that time.




7
Hyundai Motor Co. has launched production of a hydrogen fuel cell-powered crossover vehicle, with the intent of building and leasing 1,000 of them by the end of 2015.

0
GE is working on a new 3D printing method, known as cold spray, in which metal powders are sprayed from a nozzle at extremely high velocities on metal objects.
In an age of globalization and rapid changes through scientific progress, two of our societies' (and economies') main concerns are to satisfy the needs and wishes of the individual and to save precious resources. Cloud computing caters to both of these.
NASA's Robonauts are being developed for inter-planetary travel, and to take over for astronauts when the work becomes too dirty or dangerous.
New materials handling guidelines from the National Institute for Occupational Safety and Health give recommended engineering controls for nanoscale materials, which just keep proliferating.


LATEST ARCHIVED BROADCAST
For industrial control applications, or even a simple assembly line, that machine can go almost 24/7 without a break. But what happens when the task is a little more complex? That's where the "smart" machine would come in. The smart machine is one that has some simple (or complex in some cases) processing capability to be able to adapt to changing conditions. Such machines are suited for a host of applications, including automotive, aerospace, defense, medical, computers and electronics, telecommunications, consumer goods, and so on. This discussion will examine what's possible with smart machines, and what tradeoffs need to be made to implement such a solution.



Datasheets.com Parts Search
185 million searchable parts
(please enter a part number or hit search to begin)