We realized that, as a grid-tied induction-based generation system, the generator/motors would freewheel if the excitation current from the grid were lost. The grid acts somewhat like a battery being charged, providing a degree of needed resistance to the generators.
If grid resistance were to disappear because of a power failure, the generator/motors could spin up to twice as fast as designed. We needed the ability to shut down our hydroplant automatically in case of a grid power failure.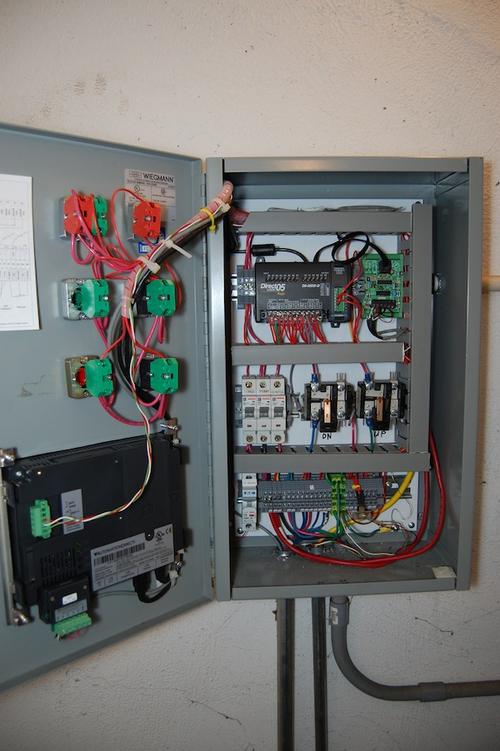 The turbine has an integral control gate to adjust water flow from 0 percent to 100 percent. This control gate was designed to be opened and closed by a 12-inch double-acting hydraulic cylinder, so the first piece of automation equipment installed was a Parker Oildyne 24V DC hydraulic reversible pump to operate the gate.
The power for the pump and all the low-voltage control circuits is supplied by two deep-cycle 12V batteries which are connected to two 12V battery charger/maintainers.
When a shutdown signal from the control panel or a fault condition occurs, the shutdown procedure is simply to run the pump in the "close" direction for 60 seconds and open the contactor to the generators. The hydraulic pump has a built-in pressure relief valve that allows it to run safely a minute or two after maximum extension or retraction of the cylinder.
It was crucial that the system also monitor rpm and shut down based on either overspeed (caused by a disengaged generator or broken belt) or underspeed (insufficient power generation) conditions, so it was time to install a programmable logic controller.
I decided that, though it was AutomationDirect's smallest PLC, a DirectLogic 05 Micro Brick PLC (pictured above) would be sufficient. In October 2007, I ordered our first PLC, a proximity sensor to count shaft revolutions, a NEMA 1 enclosure, and various pushbuttons, terminals, DIN rails, and wire ducting. After a couple of weeks of learning ladder logic and playing around with the PLC, I began to install the basic automation system.
A local bearing distributor determined what belts, sheaves, and shafts were needed to transfer rotation of the turbine to the three Baldor induction motors. Though generating electricity with induction motors is not unusual, a system of three identical motors running from one turbine seems to be unique. Initial tests in February 2008 confirmed that this would work. All three motors properly synchronized when coupled by the belt drive. Within a week, the first kilowatts of power were generated.