Fodemski's solution would mitigate damage to the brain by firing the airbags when the brain is about to hit the inside of the skull. The company says that its airbags would provide inward force, serving to nudge the brain back to neutral sooner, rather than having to wait for eight or 10 more collisions while the brain moves back and forth. "All leading theories say that the axons -- the wires between the neurons -- are tearing," Fodemski said. "In some cases, the axons can regenerate or repair. In some cases, they can't. But eventually, you exhaust the brain's capacity to repair the neuro-pathways."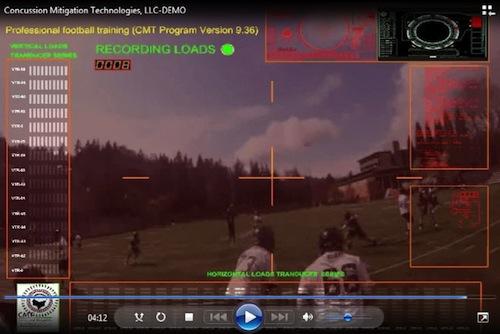 Fodemski's idea builds on earlier work done at Virginia Tech and at other universities, where engineers fitted helmets with accelerometers and associated electronics to monitor impact on players. The smart helmets showed that some particularly hard hits resulted in accelerations of 100 Gs or more to the head.
Fodemski said he doesn't yet know what his football helmets will cost, but it's believed that they could run several times as much as today's helmets, which often cost between $175 and $300. Concussion Mitigation Technologies also hopes to place the technology in other sports, such as hockey, baseball, and skiing, as well as in the military. Initial prototypes for football are expected to be ready in about six months. "It's time to start thinking bigger about this issue," Fodemski said. "We're talking about the brain, which is an organ that can't be replaced."
Concussion Mitigation Technologies can be reached at concussionmitigationtech@gmail.com.
Related posts:




0
We see Gadget Freak projects from all walks of life, but many of our most imaginative gadgets are created by budding engineers.

1
By experimenting with the photovoltaic reaction in solar cells, researchers at MIT have made a breakthrough in energy efficiency that significantly pushes the boundaries of current commercial cells on the market.

0
Advanced Micro Devices' latest release brings a cloud-based graphics boost, along with unparalleled performance, to the workstation.

1
In a world that's going green, industrial operations have a problem: Their processes involve materials that are potentially toxic, flammable, corrosive, or reactive. If improperly managed, this can precipitate dangerous health and environmental consequences.

7
With LEDs dropping in price virtually every year, automakers have begun employing them, not only on luxury vehicles, but on entry-level models, as well.


A quick look into the merger of two powerhouse 3D printing OEMs and the new leader in rapid prototyping solutions, Stratasys. The industrial revolution is now led by 3D printing and engineers are given the opportunity to fully maximize their design capabilities, reduce their time-to-market and functionally test prototypes cheaper, faster and easier. Bruce Bradshaw, Director of Marketing in North America, will explore the large product offering and variety of materials that will help CAD designers articulate their product design with actual, physical prototypes. This broadcast will dive deep into technical information including application specific stories from real world customers and their experiences with 3D printing. 3D Printing is




Datasheets.com Parts Search
185 million searchable parts
(please enter a part number or hit search to begin)