Long used in aircraft, strong, lightweight carbon fiber composites are still too expensive for high-volume, mainstream automotive manufacturing. Although volumes can't be manufactured fast enough to amortize their high materials cost, automakers are tempted: Carbon composites offer weight savings of 30 percent to 40 percent over metals. So composite manufacturers, often partnering with automakers, are working on lower-cost materials, processes better suited to high-volume manufacturing, and fabrication methods to cope with complex shapes.
Niche car manufacturers such as Audi, BMW, Daimler, and Lamborghini have launched development programs, and so have electric vehicle manufacturers. But adapting these materials for mainstream manufacturing poses several difficulties. For carbon to make an impact, the automotive industry must overcome three major challenges: reducing fiber cost, creating an infrastructure that assures enough quantity of supply, and creating volume manufacturing processes, Jim deVries, Ford Motor Co.'s global manager of materials manufacturing research, said in an interview.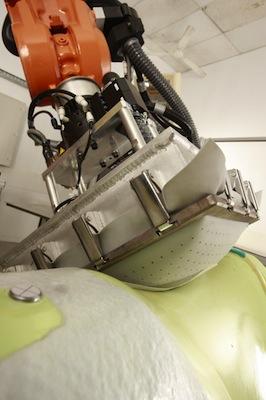 Discussions of carbon composite use are sometimes framed as carbon versus lightweight steel or aluminum. But that's not how the car companies see it, Jay Baron, director of the Coalition of Automotive Lightweighting Materials (CALM) and president of the Center for Automotive Research (CAR), told us. CALM participants have met separately with representatives of Ford, General Motors, and Chrysler to discuss strategies and barriers to lightweighting. The organization's stance is that a mix of materials is needed to achieve lightweighting. Baron said:
When asked how aggressively they will introduce new materials, auto company engineers respond that their objective is not to make the car lighter, but to make it more fuel-efficient. Lightweighting is only one way to do that. The real competition isn't carbon fiber versus aluminum, for example, but lightweighting technologies against other fuel economy technologies.
Carbon fiber would be one of the most appealing lightweighting materials, if it weren't for the cost, Baron said. CALM is exploring the opportunities and the need to develop a roadmap for implementing low-cost, high-volume composite production.
Carmakers' predictions of when carbon composites will be ready for mainstream manufacturing can vary within a single company. People in different functions within the auto companies have different perspectives of the readiness of these new technologies, said Baron.
For example, research staff might think a technology will be ready soon and the product design team may say they can design with it, but those in manufacturing may not be able to make it yet at the right production rate, and purchasing staff may not have enough suppliers to provide it. They're looking at the supply chain with different objectives.
A major challenge for introducing composites is the fact that the automotive industry was built around metal technologies, mostly steel and aluminum, said Peter Cate, global strategic marketing manager for composites of Dow Automotive Systems. Moving to a different technology means competing against highly optimized processes. Cate told us:
OEMs must be assured that the risks of making that switch are in balance with the benefits. Whether carmakers or component producers are convinced of these benefits, and the majority are, they have to re-engineer vehicle structures, not just components, since those components are central to the structures. New materials and new processes must be accommodated and invested in. There's a lot of learning from composites used in niche applications, but they won't translate directly to high volumes. The industry is in the infancy of developing the right new processes.




7
When Dick Neubert discovered that his fireplace's heatilators lost heat when not in use, he created a gadget to rectify the situation.

6
Microsoft will quit supporting – and patching – Windows XP in April. This may be a cruel development for plants.

2
Injection molding can be a powerful tool for both prototyping and production. Here are some tips on how design engineers can get the most out of it.

3
Truchard will be presented the award at the 2014 Golden Mousetrap Awards ceremony during the co-located events Pacific Design & Manufacturing, MD&M West, WestPack, PLASTEC West, Electronics West, ATX West, and AeroCon.

15
In a bid to boost the viability of lithium-based electric car batteries, a team at Lawrence Berkeley National Laboratory has developed a chemistry that could possibly double an EV's driving range while cutting its battery cost in half.


LATEST ARCHIVED BROADCAST
For industrial control applications, or even a simple assembly line, that machine can go almost 24/7 without a break. But what happens when the task is a little more complex? That's where the "smart" machine would come in. The smart machine is one that has some simple (or complex in some cases) processing capability to be able to adapt to changing conditions. Such machines are suited for a host of applications, including automotive, aerospace, defense, medical, computers and electronics, telecommunications, consumer goods, and so on. This discussion will examine what's possible with smart machines, and what tradeoffs need to be made to implement such a solution.



Datasheets.com Parts Search
185 million searchable parts
(please enter a part number or hit search to begin)