System output power can also be regulated to provide constant voltages higher or lower than the battery voltage. Figure 2 shows the discharge rate of a lithium-ion cell under various loads, which can also vary with temperature.
Most instances of lithium-based battery chemistry have fairly flat discharge slopes, and systems can usually handle this variation in battery voltage. However, some systems cannot, especially at the end of discharge, when the battery voltage begins to taper off. By regulating system output power, the output voltage can be made constant regardless of the battery voltage.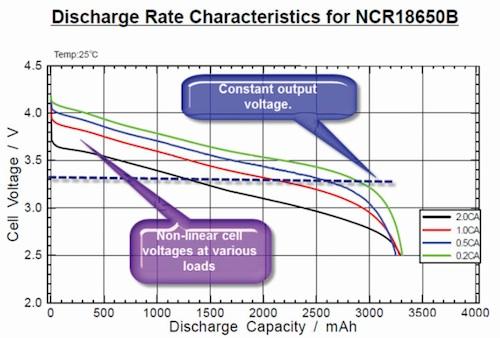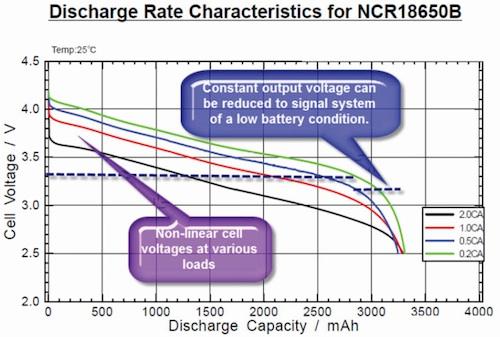 In figure 2, the blue dashed line represents a constant output of 3.3 V, which can be regulated and maintained despite the battery's varying voltage.
System output voltage can be used in conjunction with the fuel gauge to adjust itself to signal the end of discharge, making batteries backwards-compatible with non-intelligent systems. When replacing older batteries with newer lithium-ion batteries, old fuel gauges may give false readings, because they are designed specifically for cases of older battery chemistry. This can be overcome by having an onboard lithium-ion gauge adjust the output voltage to reflect the old chemistry's voltage profile. The old battery pack system will then operate as if the old battery were still being used, giving the correct reading.
Figure 3 illustrates dropping the regulated output voltage slightly at the end of discharge to signal low battery condition.