The "unpowered" mode is impractical. It has a very long wakeup-restart in reset mode, which means that your code must be well engineered to restart and keep some state information. It's fair to say that the unpowered mode is often a fix for a device that couldn't offer a good "frozen in time" mode.
This is your first clue -- when you see the low power information highlighted, check what mode is advertised. If it's the unpowered mode, be wary. Power in the range of 100 nA can only be achieved with this mode, but this is irrelevant for most applications.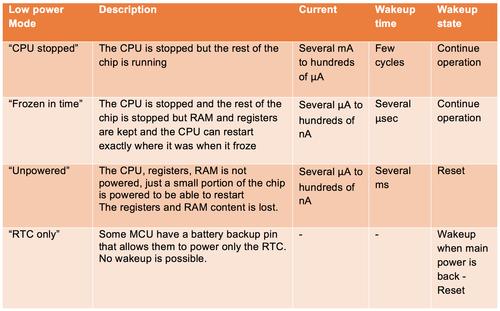 The second hint is to look at which peripherals are running. In low-power mode, you usually need a periodic wake-up, so an RTC timer should be running. If you're concerned about your application integrity, having the low-voltage detector running is important. RTC, timers, and LVD are small peripherals that add some power consumption, so a common trick is to omit them to show a better number.
The last step is to look at the wake-up time. For the low-power purist, this is an important parameter, although it can be balanced by a lower consumption in frozen in time mode. When calculating average power, integrate the wake-up time and wake-up power consumption, although it's only significant for applications that do very little.
Make sure to take the wake-up time that corresponds to the low-power mode that you want to use. The advertised wake-up time may be an ideal case that's not related to your use case.
Parameter variations
I learned an important lesson a long time ago: Never design based on the typical. When you're designing boards for the medical and transportation sectors, it's critical to design in a robust way. This is a basic rule for all hardware design if you want to create things that don't break, and is very commonly applied for interface timings and I/Os. However, I'm always surprised that so many engineers seem to accept typical data from the vendors. This is a dangerous practice, and the quality-minded engineer knows better.
There are several ways that parameters can vary from the typical value. In the case of current draw, the main influencers are temperature and manufacturing variation. External voltage has a limited influence, due to the fact that most MCUs embed a voltage regulator that maintains a constant internal voltage. If you don't take these variations into account, a significant portion of your devices could run out of power prematurely, requiring battery replacement or failure in the field.
Leakage is the main contributor to current in low-power modes. Because the leakage characteristic is exponential with temperature, if the MCU isn't well designed, power consumption can skyrocket with temperature. This is a key parameter to check -- what's the power consumption at 85°C for this low-power mode? What is its variation relative to your application's temperature profile?
The second variation that shouldn't be overlooked is the manufacturing variation. Devices and production lots can vary, which is why manufacturers have MIN and MAX numbers. A particular device can fall anywhere within these limits, and a parameter as precise as low-power current can change dramatically from one production lot to another. To determine whether a manufacturer has good control over its production, check the MAX value for the "frozen in time" mode, both at 25°C and 85°C. Be suspicious if the gap is too big or if the vendor can't provide the information.
Semir Haddad is the marketing director for general-purpose MCUs, Renesas Electronics America Inc.
Related posts: