Luxury automaker Lexus has shifted gears, temporarily applying its technical expertise to the creation of a $10,000 bicycle.
The hand-built Lexus F Sport Roadbike, which weighs a scant 15 lb and uses an electronically controlled derailleur, won't be available for sale in the US. About 100 of the bikes will be sold to Lexus dealers in Japan as a way of demonstrating the company's knowledge of carbon fiber construction and advanced electronics.
Representatives of Toyota's luxury car division told Design News that the bicycle, assembled at the company's famed LFA Works, should be considered among the world's most elite bikes. "That was our target, to put it up there with the world's best racing bikes," Paul Williamsen, global director of education strategy for Lexus International, told us.
Click on the image below for a closeup look at Lexus's F Sport Roadbike.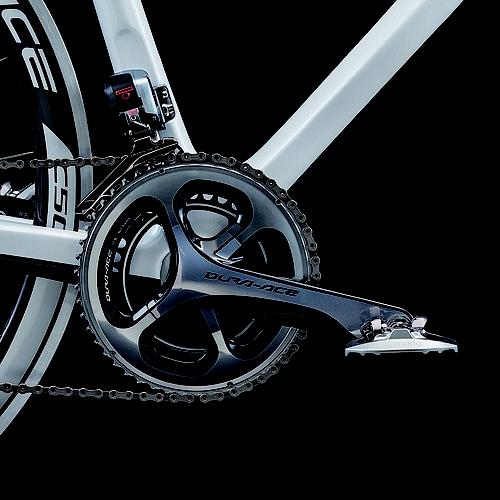 The new bike taps into the technical strength of the "skunk works-type" group that built Lexus's LFA $375,000 supercar. Like the supercar, the F Sport makes liberal use of carbon fiber. Its frame, fork, seat, seat post, handlebars, and brake levers all employ the ultra-lightweight material. Similarly, the bike's wheel rims use a combination of aluminum and carbon fiber, as well. By doing so, the engineering staff at the so-called LFA Works was able to keep the mass of the bike to just 7 kg, or about 15 lb.
To build the bike, Lexus also teamed extensively with outside suppliers. Shimano Inc., a manufacturer of cycling components, provided the electronic control and carbon fiber components, 3T Cycling made the carbon fiber handlebars, and Panasonic Panaracer supplied low-rolling-resistance tires and inner tubes.
The electronically controlled derailleur is said to be one of the bike's biggest advancements. Shimano's Di2 9070 electronic shifting system includes a microcontroller, network device, and battery inside an enclosure about the size of a conventional 9V battery, mounted at the base of the handlebar stem. A thin wire inside the frame enables the unit to "talk" to the derailleur, commanding it to upshift or downshift at the will of the rider. "We rely on the rider to decide when to upshift or downshift," Williamsen told us. "You could think of it as a contemporary manual transmission, like the one in the LFA (supercar)."
Although the bike doesn't take advantage of the LFA Works' carbon fiber loom, laser cutting, or autoclave equipment, Lexus executives say it fits neatly with the company's latest brand definition efforts. In an effort to more effectively carry its marketing message to the world, Lexus has recently branched out into other areas, producing films that premiered at the Cannes Film Festival in France and opening art galleries at high-end shopping districts near Tokyo. The F Sport Roadbike serves as a similar marketing message, while also demonstrating the LFA Works' high-end finishing and painting capabilities. "This bike isn't intended as an entry into the market place," Williamsen said. "It's intended to be a conversation-starter."
Related posts: