Small and light
The choice of cell in a battery pack is of fundamental importance. Varta implemented a design in this application using four 18650 lithium-ion cells. Lithium battery types typically offer higher energy density than any other chemistry. In the surgical helmet, Varta has achieved a high capacity of 35Wh in a pack weighing just 225g and measuring 80 mm x 43.7 mm x 41.5 mm.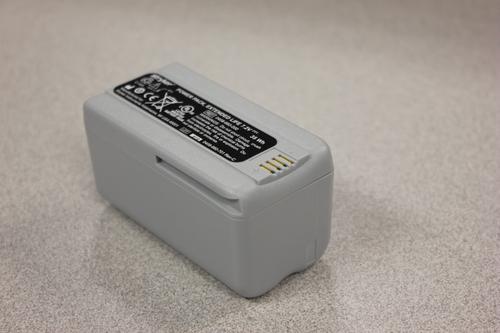 Withstands harsh conditions
The protective suit completely encloses the surgeon, protecting him or her from particulate matter from the outside. This means that inside the suit, it's hot and humid. The Varta Microbattery battery pack's sealed plastic enclosure protects it from all external materials -- vapor, contaminants, and liquids. This enclosure must be highly robust, since surgical helmets must be able to withstand rough handling and shock caused when the helmet is accidentally dropped. The special formulation of the plastic renders it highly resistant to shock and vibration.
Predictable power delivery
As a lithium cell discharges, its output voltage gradually drops -- but not in a linear fashion. Simple voltage measurement therefore provides a crude measure of a lithium-ion battery pack's SoC. The theatre crew, however, requires precise SoC information, so that the remaining run-time can be accurately known, and the risk of unexpected power-down eliminated.
State-of-the-Art theatre equipment
Today's operating theatres are high-tech environments. The battery pack in a surgical protection helmet relies on the implementation of a number of advanced technologies in the fields of electronics, chemistry, and plastics. Lightweight, small, yet safely providing a high-energy capacity, the lithium-ion power pack solution from Varta Microbattery provides for long, continuous usage. The predictable power it provides maintains a high light output from the headlight and effective ventilation from the five-speed fan, helping to keep the surgeon safe, comfortable, and focused on the task of treating the patient.
Julia Palu is vice president of Varta Microbattery (US).
Related posts: