Component miniaturization is integral to the design and development demands for a wide range of medical devices, including analytical test equipment, ventilators, and infusion pumps. Making components smaller and lighter helps conserve real estate in patient rooms, enabling equipment to be placed closer to the patient, as well as allowing more space for medical professionals to work.
Flexible packaging pptions
Selecting the right interface allows the designer to reduce board space and cut costs. This is particularly important in applications where sensors need to be placed as close to the media as possible for accurate and precise measurement. One example is the measurement of dialysate and venous pressure in dialysis treatments.
Smaller sensor ICs
Vertically integrated sensor manufacturers that control the design and manufacture of all components of the sensor, including the sense elements, seals, housings, and packaging, are best able to optimize the sensing components for performance and size.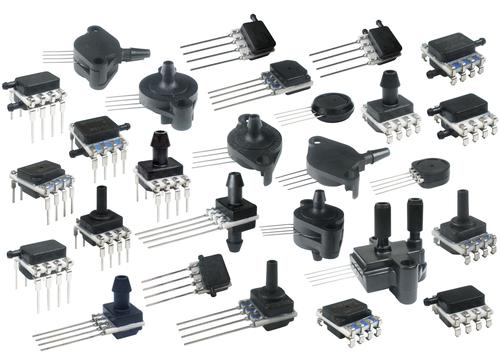 There is significant interaction between the sensor and its surrounding mechanical structure. To develop the smallest sensor possible, the manufacturer needs to understand the behavior of all materials and components in a sensor package, including the sense element, plastics, and leads. Otherwise, it could result in a less than optimally designed sensor.
For example, ventilators used in ambulances are often subject to extreme temperatures. The pressure sensor, as an example, in the respiratory equipment can expand or contract with temperature changes, causing some torsional effects like warping. If the sensor package moves, contracts, expands, or twists, the sensor chip will flex, which can affect the way the sensor performs. When sensor manufacturers control all aspects of the manufacturing process, including materials, sensor chip, and packaging, they can take into account what might happen at these different temperatures and develop the ideal package size to accommodate for any mechanical or temperature-related stresses.
Integrated sensors
As healthcare providers transition patients to home care, there is a need to shrink the size of medical devices such as respiratory therapy and diagnostics equipment. In many cases, medical device designers are looking for sensors that integrate several functions, such as temperature and humidity sensing into a single package. This frees up board space to shrink the size of the medical device or allows for higher functionality and also reduces design-in complexity.
Integrated sensors also provide several benefits from an assembly and manufacturing viewpoint. It allows the designer to place one component on the board instead of two, while eliminating board traces through the PCB to the microprocessor, which can save additional space and make the design validation process easier.
Placing one sensor instead of two on the board also cuts down on the bill of materials, and can reduce the chance of assembly and manufacturing mistakes. It also requires fewer connections, and all those connections are potential failure points, as well.