Not long ago, engineers considered it a job well done if the machine they designed operated efficiently, reliably, and economically. But increasingly they are coming face-to-face with a new and often overriding design mandate: connectivity. Whether the device in question is a machine tool, oil platform, utility meter, or medical diagnostic tool, manufactures now want to design in telematics technology that lets vital data on the machine flow to those responsible for maintenance, inventory control, marketing, energy management, and more.
Machine-to-machine (M2M) telemetry plays an essential part in the "Internet of Things" revolution that is rapidly reshaping countless fields. Among the many M2M examples cited by the Berg Insight global research firm are:
2.8 million patients worldwide use a home monitoring service based on equipment with integrated connectivity, a number that's expected to increase to 9.4 million by 2017.
Shipments of wireless M2M modules for security applications in Europe are forecasted to grow from 2.9 million in 2011 to 20 million in 2016, a 47 percent annual growth rate.
The number of devices with cellular or satellite connectivity deployed in oil and gas applications worldwide is growing at an annual rate of 21.5 percent, as companies move to telemetry as a prime tool for monitoring and controlling drills, wells, and pipelines.
Fleet management systems deployed in North America are increasing at the rate of nearly 16 percent annually and will reach 5.9 million by 2016, as fleet owners turn to telemetry for applications ranging from job dispatching to hours-of-service logging.
Despite the fact that cloud-based M2M communication is still in its infancy, it's experiencing fast adoption rates. Moreover, current trends point to an M2M telemetry boom that will eclipse that of web-based consumer-to-consumer connections. Over the next five years, Cisco estimates that M2M traffic could increase 22 times over (Figure 1). By 2020, some 50 billion devices could be connected. In short, when it comes to web-based communications in future years, you'll see far more data-driven transactions between machines than between people.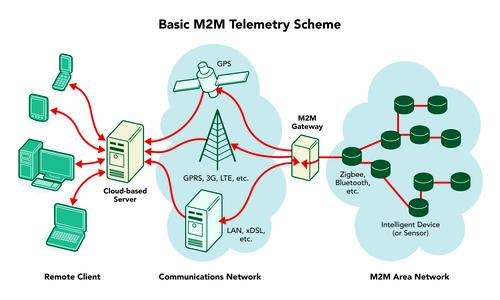 Fueling a revolution
M2M communications certainly aren't new. But until recently, applications tended to be narrow in focus, such as remote monitoring of HVAC systems in buildings or security access control. But now, with the shift to cloud-based systems and wireless communications networks, costs are coming down and companies are discovering a wider range of applications and operational benefits from connecting their machines.
Instead of pushing data from one machine to another, data increasingly is flowing to a web-based server in the cloud. With the help of business intelligence software, companies are mining that data to make better and faster operational decisions. And instead of wired communications, where connectivity is typically limited to devices in a single building or to devices in other buildings on a local campus, wireless extends M2M connectivity to both distant and mobile applications.
By taking advantage of data from wireless M2M connectivity, companies can, for example, predict maintenance problems on remote machines, reduce the cost of field service, and more tightly control inventories. This in turn helps companies run greener operations, as they optimize and cut down on service calls.
Such benefits make M2M telemetry attractive to all sorts of far-flung applications, such as mining, pipeline management, oil and gas exploration, deployment of agricultural equipment, smart grid operations, and transportation management. UPS, for example, can automatically plan the most efficient delivery routes based on location data analysis of items in a truck. In addition, the data that a driver scans from a parcel flows to a datacenter, where it can be displayed on UPS mobile apps by the customer (Figure 2). Consumers can also relay specific handling or delivery instructions on an item back to the driver. In cars, GM keeps expanding applications for its OnStar system, which provides such services as automatic crash response, stolen vehicle assistance, diagnostic alerts, and navigation.