Lubricant selection not only depends on the operating conditions the bearing will face, but may also be subject to regulatory requirements. Manufacturers of medical devices are often required to use what are known as food-grade lubricants, which are broken into categories based on the likelihood they will contact food.
H1 lubricants are food-grade lubricants used in food processing environments where there is some possibility of incidental food contact. H2 lubricants are used on equipment and machine parts in locations where there is no possibility that the lubricant or lubricated surface will contact food. Finally, H3 lubricants, also known as soluble or edible oil, are used to clean and prevent rust on hooks, trolleys, and similar equipment.
Due to the wide array of products, prices, and availability, both a lubrication specialist and the bearing manufacturer should be consulted before making a final lubricant selection.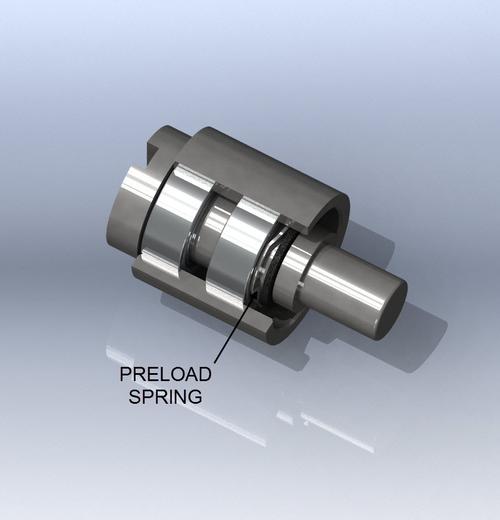 Surgical and dental tools
Some of the more demanding medical applications include surgical and dental tools (drills and saws), laboratory and diagnostic equipment, and imaging equipment. Bearings of special design, or catalogue bearings with modifications or enhancements, are typically required. These handheld tools, particularly dental drills, generally operate at very high speeds -- rotational speeds of 400,000RPM or higher are common. Low speed is 125,000RPM, which is quite fast. High-precision (ABEC 5 and 7) miniature and instrument series ball bearings are used.
However, for ultra-high speeds, these bearings are modified further and have improved raceway surface finishes. In addition, the raceways and surfaces that guide the retainer have tighter dimensional and geometrical tolerances, in some cases ABEC 9. More expensive angular contact designs are often recommended for their high-speed stability, and they also allow for the use of full machined type retainers. This, again, enhances speed capability.
Running at high speeds also presents challenges with instrument noise levels and heat generation. High audible noise during a dental procedure is a problem for both the dentist and the patient. When bearings are assembled, it is necessary to have a certain amount of internal clearance, or radial play, built in. This allows for one bearing race to move both radially and axially relative to the other.
Application of a preload across a pair of bearings is recommended. Preload can be defined as the application of an axial load across a pair of bearings to force the rolling elements to assume a contact angle for the purpose of removing the internal clearance. The result is constant ball-to-race contact. This reduces ball skidding, vibration, and noise. However, disadvantages of preload include torque, heat, and reduction in fatigue life. Preload determination is a balancing act where the goal is to apply the least amount of axial preload force possible while meeting the performance requirements of the instrument.
During surgery, the bearings in tools are regularly exposed to harsh conditions and liquids, including blood and saline, as well as particulate debris. When space permits, shielded bearings should always be used. The speed of these tools is generally too high for seals, but when conditions permit, seals should be used. Seals are the best option for keeping foreign debris out of the interior of the bearing and keeping lubricant in.
Laboratory and diagnostic equipment
The laboratory work that goes into the testing of blood, urine, tissue, and other specimens is critical for the timely diagnosis and treatment of millions of patients every day. Thousands of tests are prescribed in hematology, immunochemistry, and histology every hour in hospitals and laboratories around the world.