By incorporating a continuous case packer with three degrees of movement -- forward-back, left-right, up-down -- to more accurately track conveyor movement, product can be continuously packed without unnecessary energy expenditure and the mechanical wear and tear of continuous stops and starts. So, a case packer that once may have comprised 12 distinct axes can now be programmed using robotic software modules, with auxiliary axes for input and output belts, thereby addressing both speed and recovery. Programming follows a standard "recipe" that can be easily adjusted to any application or product variety that fits within the predefined design space. The approach offers not only speed, performance, and programming ease, but improved reliability and longer machine life.
Intelligent centralized control systems blend logic and motion
Motion control automation often comprises multiple machines requiring a powerful and uniform central automation control system. Machine builders are tasked with identifying simple, maintenance-free technologies that can deliver on high-performance dynamic power requirements. Easy engineering, power, and performance need not be mutually exclusive.
Designed for applications in the packaging and process automation industries, the compact, energy-efficient Lenze 3200 C L-Force Controller blends the program logic controller (PLC), motion controller, and visualization in one device to simplify engineering and extend cost savings. Delivering precision motion control in high dynamic multi-axis applications, the 3200 C is suitable for gantry systems, robots, conveyers, and feeders. The 3200 C architecture fits into a tight control cabinet and operates without a fan or battery via an integrated Uninterrupted Power Supply (UPS). The controller directs the ECS drive and MCS motor through a programmed sequence of moves, plans each trajectory point, and directs the drive to close the position and velocity loops with the motor.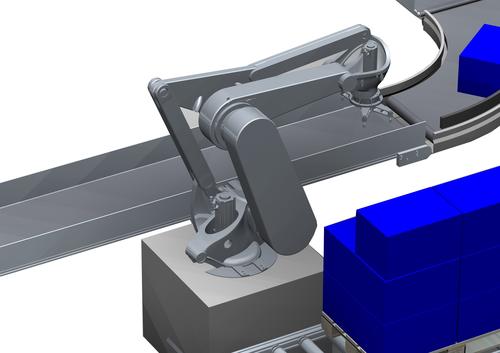 Equipped with an integrated Ethernet switch and EtherCAT onboard, the 3200 C communicates with multiple axes from 2 (1ms cycle time) up to 64 (6ms cycle time). Integration of the EtherCAT-based 3200 C Controller platform combines logic and motion in a single intelligent control system. Featuring automated standard setup via a USB Flash drive, the 3200 C minimizes time for commissioning and enables simple device replacement via its pluggable memory card and diagnostics via an integrated Web server.
Dynamic servo inverter supports full spectrum of motor control technologies
In conjunction with the controller 3200 C, the i700 servo inverter constitutes the Lenze controller-based automation system for machines with central motion control. Designed to minimize motion control complexity, the i700 simplifies machine design, build, and commissioning. Short cycle times, 32-bit signal resolution, and an overload capacity of more than 200 percent make the i700 suitable for highly dynamic, precise, multi-axis applications in handling and packaging machines and robotics.
Servo Inverter i700 single-axis and double-axis modules offer a power range from 0.37 to 15 kW, along with appropriate power supply modules. Plug connectors enable easy wiring. Under normal operating conditions the power supply modules do not require filtering or DC fusing, and have a built-in dynamic brake chopper. Intermediate electrical connections between the i700 drives are cable-free, using an innovative rail system, and are easily installed by setting connector arms. The i700 features a variety of cooling technologies, including cold plate, push-through technology, and panel mounted units.
Supporting the full spectrum of motor technologies, from standard 3-phase motors to synchronous servomotors, the motor control i700 uses a single interface for simple engineering. Intuitive software tools and a central engineering interface make it simple to integrate the i700 into automation architectures through EtherCAT. The i700 features integrated safety functionality to simplify the machine design.
Whether engineering a controller-based operation for central motion control or a drive-based operation for machines with decentralized motion control, motion-centric automation is for packaging and other machine applications that demand a lot of motion. From drive dimensioning to configuration and commissioning, through to maintenance and diagnostics, efficient and uniform tools should support the design process with standardized, customizable control software templates for machines performing recurring tasks. The motion-centric engineering approach and some of the newest technologies on the market can significantly improve productivity while reducing control design complexity and time-to-market for new machine offerings.
Tom Jensen is program manager, OEM Business Development, for Lenze.
Related posts: