In order to implement these policies, many SCADA vendors offer products that provide remote interaction via a web browser or an app. In the past, browser access was hindered by long download times and screens too large for small, handheld devices.
However, the arrival of SCADA with HTML5 support has eliminated many of the issues associated with using browsers on handheld devices for remote access (Figure 2). These solutions let remote users access data at higher speeds and view it on the right screen size, regardless of the device. Moreover, SCADA with HTML5 support provides the ability to build screens once, then deploy them simultaneously everywhere, which dramatically cuts development time.
Another option available for remote smartphone and tablet access is an app. As compared to browsers, apps are usually faster to load and access, and thus work tolerably well even in areas with poor cellular network coverage or slow WiFi speeds. Developed for smaller screens, these low-cost apps shorten download times and offer an excellent user interface.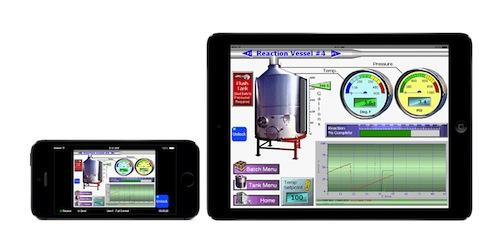 More intuitive interfaces
The next step in making SCADA interactions better adapted for human use is multi-touch technology, which is now available on fixed display screens as well as mobile devices. SCADA solutions offering multi-touch capability enable users to interact with data in a more natural manner. Instead of relying on a pointing device such as a mouse to click and scroll through screens, users can more easily navigate with intuitive gestures like pinching and swiping using their fingers.
In addition to making it easier to interact with the SCADA system, multi-touch technology increases command execution speeds up to three times as compared to single-touch screens. While single-touch screens offer an improvement over screens that require a navigation device in many applications, they still require users to scroll through screens or dropdown menus.
Multi-touch, however, helps users easily access key information by enabling them to rapidly scroll to find the area of interest and then zoom into that area, and to even rotate objects in the area for a better view, all without having to lift a finger from the screen. This quick and intuitive access is essential when a problem occurs and seconds count.
Moreover, multi-touch SCADA is better suited for use with tablets and smartphones. As workplaces become more mobile and the cost of handheld devices continue to drop, the laptop will be displaced by the tablet and smartphone. Since multi-touch SCADA screens use the same gestures as those in commercial applications, most users will already be very familiar with them, thus significantly reducing training time.
Touchscreen devices such as smartphones and tablets are also better adapted for industrial environments. Their lack of moving parts and crevices make them more suitable to areas subjected to water, dust, and other contaminants, and many of these devices can be operated by a gloved hand.
Integrated data
There's been much talk lately about "big data." This is data collected from a wide range of sources, including machines, processes, and logistics, and deposited in a central location for viewing, analysis, and action. The idea is that integrating systems for real-time data will help management make more informed decisions that improve overall efficiency and plant safety.
Just as various automation systems, including SCADA, once only existed in silos, machine- and process-generated data has typically been isolated from other business systems. This has been the result of proprietary protocols and networking challenges.