Process-control tools and software
The Equator is a low-cost, flexible alternative to dedicated gaging. It uses the comparison method of measuring. A master part with known measurements taken on a CMM is used to "master" the Equator, with all subsequent measurements compared to the master. Repeatability is 0.00007 inch (0.002 mm) immediately after mastering. To compensate for shop temperature changes, the Equator can be re-mastered at any time. The Equator uses an SP25 probe for touch and scanning data collection, at speeds of up to 1,000 points per second. Styli are stored in an integral six-port changing rack, and the system is programmed through MODUS Equator software. The Equator can be used manually with push-button ease, but its EZ-IO software for automation also makes it ideal for integration into cells like Conroe's.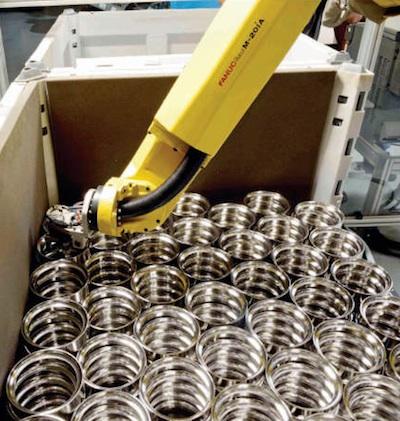 "We attended an open house at Hartwig in early 2012 and saw the Equator in action, along with Okuma's twin-spindle dual-gantry lathe," said Wardell. "Apart from being automation ready for parts of our type, the lathe's Windows-based OSP dual-path control has an open-architecture, PC-based operating platform, which was important in our plan for developing our own auto-compensation software."
Gaging as part of the automated cell
Wardell and Buck went on to install a cell consisting of the Okuma 2SP-250H, a single Equator, an engraving machine, and a Fanuc M20iA 6-axis robot. In practice, the lathe's two part carousels are loaded with raw workpieces, approximately 300 parts. The lathe's dual gantry loaders feed the spindles and place finished parts on a chute leading to a conveyor for pickup by the robot. The robot places the part on the Equator for measurement and if acceptable, transfers it to the engraving machine, and finally boxes/palletizes the finished parts.
"We developed our own tool compensation software to run on the OSP control," Wardell said. "This software uses measuring results from the Equator, transmitted in the form of a CSV file, to offset the tools when the part deviates from tolerance." Machining removes about 0.015 inch (0.38 mm) from each side of the part, with the tightest tolerance at ±0.001 inch (0.025 mm), and an 8 microinch (0.5 micron) surface finish. Parts range in size from about 3 to 6 inches O.D. "The Equator is easily able to measure within our tolerances with a high margin," said Wardell.
"Our OD/ID stays spot on, with perhaps a couple of tenths variation on radius. We batch-process parts by size, so changeovers of chuck jaws and other tooling are minimized. The Equator's speed allows it to easily keep pace with the process. We re-master only once a day, because our shop is climate controlled to 72F (22.2C)."