Pilot-operated hydraulic valves have a number of "pluses" for a transmission control system. They are widely available in the ideal flow range needed for transmission control. Also, the longer main stage spool stroke allows for low pressure drop at relatively high flows. Further, the magnetic force is in proportion to the pressure controlled by the proportional pilot section. Given that the pilot-operated valve controls pressure over a small area, these valves typically have small coils. This typically implies lower current draw. For example, a pilot-driven valve, such as the TS98-T34, requires less than one amp to reach maximum regulated pressure. The current draw for a directly driven valve is typically 1 to 2 amps for a 12 volt system. As current requirements increase, so does the cost of the electrical controller.
The pilot section of a pilot-operated valve is smaller than the main stage spool, which means it can fill with hydraulic fluid faster. The pilot valve also has a smaller stroke than the main stage spool. Depending on the configuration, the armature of the main stage spool might have to travel anywhere from 20 to 100 times the distance than the armature of the pilot valve. Response time is also limited by the coil inductance, and a larger coil intrinsically has larger induction, which means it takes more time for the magnetic field to build for the larger, directly acting valve.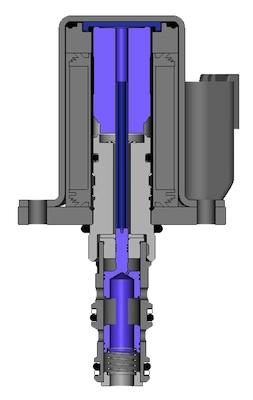 On the minus side, pilot-operated valves have more moving parts and higher internal leakage. The very nature of a pilot operated valve requires a continuous parasitic flow to assure correct operation. This continuous flow is approximately 500 ml/min. While this may not seem like a lot of flow, it adds up when there multiple valves controlling multiple clutches.
Direct-acting advantages
In the last several years, great advances have been made in the capabilities of direct-acting valves, making them equivalent or superior to pilot-operated valves for the transmission control market. By analyzing the flow forces with computational fluid dynamics (CFD) and evaluating the individual components of the valve with finite element analysis (FEA), HydraForce has been able to develop new and more capable models of direct-acting valves. Direct-acting valves are inherently simpler than pilot-operated valves, as the solenoid coil provides direct control of the valve spool. There is no "in-between" pilot section.
Now that direct-acting valves can get into the act, so to speak, in the transmission market, they provide several significant advantages. Direct-acting valves now offer flow ratings comparable to that of pilot-operated valves. While in the past, direct-acting valves were only capable of handling 3.8 to 19 lpm (1 to 5 gpm), HydraForce has developed valves with flows of up to 30 lpm (8 gpm). This allows them to provide more flow into a clutch for filling -- an important advantage for transmission control. With fewer moving parts, direct-acting valves have fewer internal leakage paths, which greatly reduces hydraulic leakage. Less leakage allows the use of a smaller pump in the application. This will allow for more of the engine power to be used for other functions. Further, the use of a smaller pump provides reductions in the areas of horsepower losses, fuel consumption, exhaust emissions, etc.
Nick Stabile is special projects engineering group leader at HydraForce. David Price is the company's marketing communications manager, and Cynthia Mackin Fawcett is HydraForce's technical publications specialist.
Related posts: