How Littelfuse participates in standards development
A manufacturer's knowledge of industry standards is often a direct result of its involvement in helping to shape them. Here's a short list of some of the standards organizations with which Littelfuse is involved:
Canadian Standards Association (CSA) operates internationally to set standards for products and services through tests, certification, inspection for safety, and performance, including EMC and IEC testing.
Although CANENA is not a standards developing organization, its goal is to foster the harmonization of electrotechnical product standards, conformity assessment test requirements, and electrical codes between all democracies of the Western Hemisphere.
JEDEC creates standards to meet the technical and developmental needs of the microelectronics industry. Currently, a Littelfuse employee chairs the JC-22.5 Subcommittee on Transient Voltage Suppressors.
The Surge Protective Devices Committee of the IEEE Power and Energy Society.
The International Electrotechnical Commission (IEC). Littelfuse participates in standards development committees devoted to low-voltage surge protective devices (SC 37A), specific components for surge arresters and surge protective devices (SC 37B), and low-voltage fuses (SC 32B).
The mission of the NEMA Surge Protection Institute (NSPI) is to heighten awareness of the benefits of surge protection to all users of low voltage electrical systems in North America to promote proper application and usage.
UL (Underwriters Laboratories Inc.) is always looking for industry, academic, and end-user experts to help develop its consensus-based standards. Littelfuse participated in the development of several, including UL 248 (low-voltage fuses), UL 8750 (Standard for Light Emitting Diode (LED), Equipment for Use in Lighting Products), UL 60950 (Standard for Information Technology Equipment), and UL 1449 (Standard for Surge Protective Devices).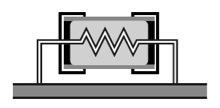 UL 913 Standard helps prevent explosions in hazardous working environments
Gases, petroleum products, and airborne dusts tend, by their very nature, to be explosive if sources of sparks or excess heat are present. UL, along with other regulatory bodies, has worked to establish and refine standards that minimize the hazards associated with these working environments. UL 913 establishes the standard for "Intrinsically Safe Apparatus and Associated Apparatus for Use in Class I, II, and III, Division 1, Hazardous (Classified) Locations." The standard specifies requirements for the construction and testing of electrical apparatus, or parts of such apparatus, having circuits that are not capable of causing ignition in Division 1 Hazardous (Classified) Locations as defined in Article 500 of the National Electrical Code, ANSI/ NFPA 70.
Various electronic devices are often used for production or maintenance activities in potentially hazardous areas, including motor controllers, lighting, communication handsets, flow meters, process control and automation, and sensors. Under normal operation, these types of apparatus can generate tiny internal sparks from components such as motor brushes, switch contacts, and connectors. To use this type of apparatus safely in a hazardous location, the energy of such sparks must be contained to avoid igniting explosive materials in the environment. An intrinsically safe certified fuse is necessary to limit the current under any abnormal condition to ensure that the circuit will open without generating a spark capable of causing ignition. Arcing can occur when the fuse opens, which must be contained within the fuse's encapsulation. The surface temperature of the fuse also must be kept below the temperature that could ignite explosive gases or dust.
Designing intrinsically safe circuits requires intrinsically safe fuses
Littelfuse recently developed the PICO 259-UL913 Series Intrinsically Safe Fuse (Figure 1), a range of encapsulated fuses approved under the UL 913 standard for Intrinsically Safe Electrical Equipment to operate in hazardous locations; currently, it's the only fuse sold that is certified to meet this standard. This sealed fuse is ideal for applications in the oil, gas, mining, chemical, and pharmaceutical industries because it is designed to operate within environments where there is danger of gas explosion from faulty circuits. The fuse's encapsulation (Figure 2) is >1mm thick, so the fuse can also be used in where flammable gases or vapors are present. This eliminates the need for an added conformal coating of the PCB where the fuse is placed. The fuse encapsulation limits the temperature and energy that is exposed to the hazardous gases in the environment and prevents particles from entering the fuse body. The encapsulation also limits the surface temperature of the fuse during operation, which allows it to be used in environments where flammable dust particles are a concern.
Will Li is the global standards manager for the Electronic and Semiconductor Business Unit (ESBU) at Littelfuse, Inc.
Related posts:




9
We celebrate Halloween with a look at 13 of the scariest technology-based horror movies of all time, as well as some real-life technologies that bare a frightening resemblance to what's on screen.
When Charlie Miller and Chris Valasek made headlines by hacking and crashing a Jeep last year, the event followed many months of study and trials.
A unique set of multi-network servo drives introduced by Mitsubishi Electric enables the company's servo motion capabilities to be integrated into EtherNet/IP, EtherCAT, or PROFINET networks.
With a better understanding of materials' response to load and temperature, researchers could potentially use the knowledge to improve design. The research could even help geologists studying plate tectonics.
A panel on cybersecurity at ARM TechCon called for regulations to protect the security of connected devices.

Focus on Fundamentals consists of 45-minute on-line classes that cover a host of technologies. You learn without leaving the comfort of your desk. All classes are taught by subject-matter experts and all are archived. So if you can't attend live, attend at your convenience.
Next Course November 8 - 10: