Freescale Semiconductor is rolling out a high-bandwidth, three-axis accelerometer that could make it easier to monitor the health of industrial machinery. Known as the FXLN83xxQ, the new MEMS-based device is designed to detect ultra-high frequency motion and vibration in motors, engines, and industrial applications of all kinds.
"If you want to see if a ball bearing is going bad, or if an air conditioning compressor is working right, then you need a sensor that can handle thousands of rpms," Ian Chen, a marketing executive for Freescale's Sensors Solutions Division, tells Design News. "So an industrial sensor needs to have very wide bandwidth. This sensor gives you that."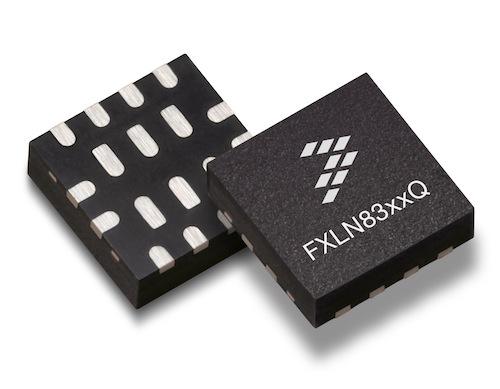 Freescale's new part combines three-axis operation with a 3-kHz bandwidth. That makes it a candidate for a variety of industrial applications such as packaging machinery, stamping presses, transfer lines, and conveyor belts. It also gives it potential in medical monitoring systems, as well as in consumer products, such as air conditioning systems, washing machines, dishwashers, and dryers. Freescale said its engineers have even used the device internally to monitor semiconductor manufacturing equipment.
Freescale says the new sensor represents a departure from the status quo. Up to now, the largest percentage of accelerometers have operated in the consumer space -- in smartphones and game controllers -- at maximum bandwidths of about 300 Hz. A few higher-bandwidth accelerometers have been employed in specific applications, such as automotive airbags and stability control systems, but those typically have been single- or dual-axis devices.
By combining high bandwidth with three-axis performance, however, the new product could hit a sweet spot for designers of industrial products, particularly those associated with the Internet of Things. "This can in part start to fulfill the expectations of the Internet of Things," Chen says. "The first piece of the Internet of Things is the collection of data, and this can help do that."
Freescale, which has shipped more than a billion sensors in the last five years, says its new technology could serve a relatively untapped niche in the industrial sensor space. "It's only now that we are beginning to see a perfect storm of high performance and low cost in MEMS sensors, along with the availability of microcontrollers to pull everything together," he says.
Related posts: