We can summarize the above by saying:
Both steppers and BLDC are brushless motors;
Steppers typically are driven open loop and BLDC are driven in close loop mode;
By design, steppers have a higher number of poles versus standard BLDC motors.
Motion solution
When an engineer is faced with a new application, he or she can select either a stepper or a BLDC servo. A few years ago, the choice was based more on the driver and the controller than the motor itself. Some engineers would prefer an open-loop system while others a servo controller. These days, for high-performance applications, steppers are beginning to be used in closed-loop and compete against BLDC servos.
Let us consider two theoretical motor types: P952 (stepper) and B850 (BLDC servo). (See table 2):
Similar size range
Both motors can deliver continuously 1Nm of torque
The B850 servo can deliver 50% more peak torque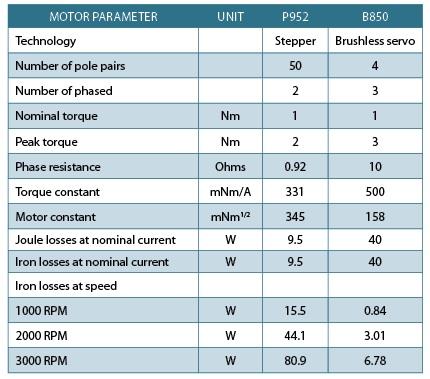 These two motors physically look identical, but one is a stepper while the other one a typical BLDC. The P952 has a torque / watt dissipated by Joule effect ratio twice as high as the B850.
By design, a stepper motor has a high number of poles. The high number of poles allows this motor to have a high ratio Torque / watt dissipated by Joule effect. This explains that the Joule losses at nominal current are 4 times lower for the stepper than the brushless motor. In terms of performance, for the same Joule dissipated power, the stepper can theoretically provide four times more torque. Iron losses for the P952 are much higher than the B850 servo motor.
Normally, iron losses depend on the frequency (hysteresis) and on the square of the frequency (eddy current). The B850, having 4 pole pairs, has to change the current polarity four times per revolution. On the other hand, the stepper P952 has 50 pole pairs and therefore a commutation frequency of 50 per revolution. Because of the high commutation frequency, the iron losses generated are much higher for the stepper motor.
Let us plot the Joule and Iron losses for both motor types. We see immediately the main difference between both technologies (see table 3):
Below 1,500 RPM, the joule losses and the iron losses of the stepper are much lower than the brushless. The stepper outperforms the BLDC in this speed range.
Above 1,500 RPM, the low iron losses generated by the BLDC servo can be seen clearly.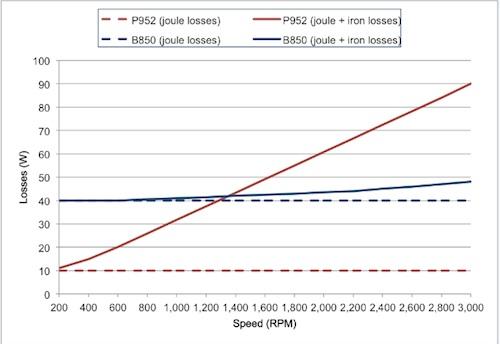 Today engineers are trying to optimize motor performance versus cost. According to the motion required for the application, they will select the best motor technology. As described in table 3, at low speed a stepper driven in close loop has advantages over a BLDC motor. At high speed a BLDC servo would be the best option.