The heart of the system is the new Ogura MIC-3.5T. This new clutch has higher torque and is almost half the size and weight of previous micro clutches. It was originally designed for paper transport functions in network printers, so it is manufactured in high volumes. These clutches are attractive because of their low cost, smaller size, and lighter weight. Cost and weight reductions were achieved by changing the design of the clutch construction to be almost entirely powder metal and plastic.
In Access Technologies' application, the small gear reducer is mounted to the motor. The MIC-3.5T is a one-piece clutch. It mounts onto the D shaft of the reducer and is kept in place via a snap ring. When the motor is turning (no power to the clutch), only the clutch rotor that is attached to the gearbox shaft turns. However, when power is applied to the clutch coil, the armature becomes magnetically attached to the rotor, so the rotor and the armature turn together. The output of the clutch has three slots that can attach to an output assembly. This type of clutch is called a "dog clutch." Attached to the dog-ears of the clutch is a special adaptor/pinion made by Access Technologies. This adaptor coupling/pinion gear is held in place via a bushing, which holds the pinion in the proper position to drive the mating gear.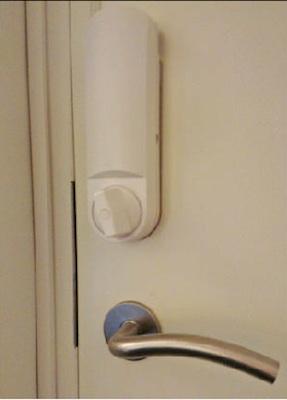 Access to a door that has this locking system can be changed at any time by enabling or disabling individual key cards. This means that a variety of key cards can be given to contractors, delivery men, home healthcare workers, etc., avoiding the concern of having too many people having individual keys for a particular building and/or home. Another advantage with utilizing the remote operation option with this system is safety. In buildings like nursing homes and/or condos, if an emergency situation was to arise, doors could be unlocked from one central location, allowing faster access for first responders and/or exit of the residents.
The centralized system also keeps track of which personnel enter the premises via either the key cards or cellphones. This means there is always a record of who enters and/or exits a building. The central office can even be programmed to send a notification if the door is unlocked from the inside at a time when it is not supposed to be, which would help with monitoring situations such as childcare or Alzheimer's patients.
Related posts: