The use of nanoparticle technology to coat transparent, flexible polycarbonate film could be a significant new tool for design engineers developing touchscreens for wearables, consumer electronics, and similar devices. The ability to produce conductive LEXAN film also enables new uses for plastic in spaces previously limited to glass, and is expected to have a significant impact on the consumer electronics industry, as well as other industries such as automotive, building, lighting, heating, appliances, displays, and more.
"The best way to describe this unique technology development is that it is the first transparent, conductive polycarbonate material on the market," Matt Gray, director of Consumer Electronics Marketing for SABIC, told Design News. "It opens up a wide array of opportunities in a wide variety of industries from consumer electronics to building construction and healthcare. The technology has capabilities to be flexible, formable, and offers excellent transmission and resistivity properties."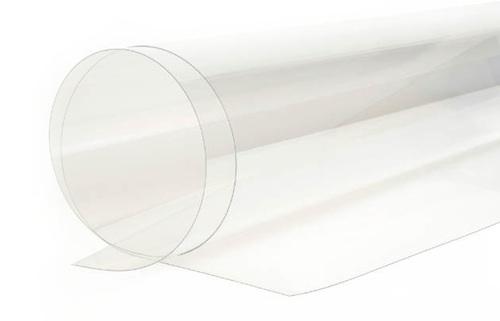 According to Jon Brodd, CEO at Cima NanoTech:
The technology provides a new set of physics in terms of combining transparency and conductivity. Applications are diverse, including areas such as transparent heating for automotive, EMI shielding for a medical device, or a touchscreen cover lens made of lightweight, flexible polycarbonate material. It addresses a broad range of industries and applications.
The biggest breakthrough from the SABIC perspective is the availability of the company's new transparent conductive LEXAN film based on Cima NanoTech's proprietary SANTE nanoparticle technology. Gray told us:
Typically when we have looked at conductive fillers, they have always been opaque and haven't given us the ability to really develop transparent conductive materials. The SANTE network, and the fact that we can apply it to polycarbonate and exceed some of the properties we have had in the past, is a turning point for us.
Customer trials
SABIC and Cima NanoTech announced that the joint development of the transparent polycarbonate will be available for customer trials in the second half of 2014. According to both companies, this development represents a completely new class of film materials.
Prior to this development, Gray said that achieving a transparent conductive polycarbonate film was challenging because the existing process required the use of conductive fillers. However, adding these fillers modifies the mechanical properties of polycarbonate and its transparency and, in addition, the process is very complex.
In contrast to films with conductive fillers, SANTE technology can be wet coated or transferred onto LEXAN film, offering a simple way to achieve a conductive polycarbonate material that is transparent and flexible.
The material is suitable for a wide range of applications requiring materials that are conductive, impact resistant, and lightweight. Possibilities include touchscreens that are impact-resistant and flexible, impact resistant tablets, touch displays, large lightweight touch-enabled displays, transparent "line-free" anti-fog automotive rear and side windows, EMI shielded plastic, OLED lighting and electrochromic displays, transparent heated visors and goggles, and new products and applications in healthcare devices and materials for building and construction.
Gray continued:
The particles that we use are nanoscale, and the conductive network is created via a self-assembling process after the nanoparticles are wet coated onto the surface of the polycarbonate. This is done in a roll-to-roll format which is very commercially viable. Cima NanoTech commercialized it on polyethylene terephthalate (PET), and now with slight modifications, we are able to do the same on polycarbonate. It is an out-of-the-box way to look at transparent conductors and fortunately provides the temperature profiles and physics of the polycarbonate substrate.