One such example of a company that is putting this workflow to good use is Bucher Hydraulics, where management has firmly placed CFD simulation tools in the hands of the product developers to eliminate major roadblocks in their design process.
Bucher Hydraulics Division produces valves mainly used in mobile applications in construction and agricultural machinery but also in wind turbines and industrial applications such as plastic injection machines. Bucher Hydraulics AG Frutigen, located in the Bernese Oberland in the Swiss Alps, is one of the company's six competence centers and specializes in cartridge and customized valves and valve manifolds (Figure 1). Each competence center is responsible for a separate area: design/layout/construction, prototyping and testing, serial production, sales, and after sales.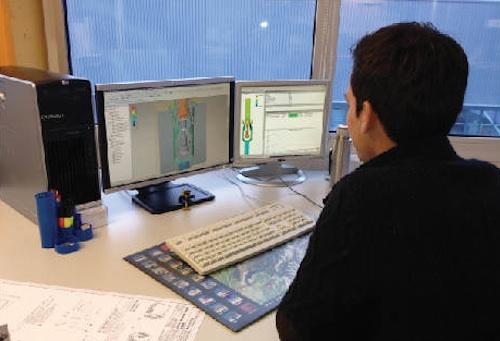 In the past, when Bucher Hydraulics engineers built small- and medium-sized valves, they were able to obtain test results and optimize the products in a short time at reasonable costs from their prototyping and testing competence center. They didn't need to use flow simulation because they were able to quickly use real results.
But today's projects are for valves that deliver high flow and pressure at very low pressure drop within small dimensions. For these housings or manifolds, all the CFD calculations were being done at a specialized competence center. This was causing delays because of handover from the designer to the operator (preparation of data files and explanation of the task), handover from the operator to the designer (visualization of the results and its explanation), and misunderstandings of task and interpretation that would lead to several repetition loops. The team was working with four different software programs for modeling, meshing, calculation, and visualization, which needed dedicated people to use and maintain daily.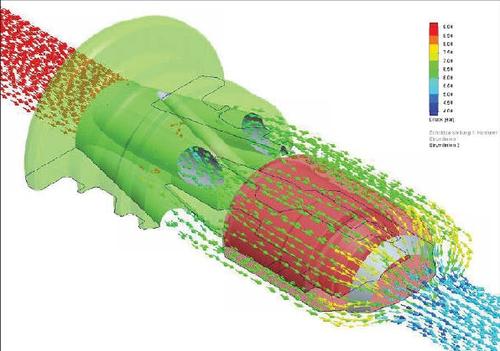 They wanted simulation and testing software that would be easy to learn and easily used by the valve designer who would not be working with it all of the time. They also wanted quick and precise results with good and simple visualization, simple use of their existing CAD-3D data, and a simple data repository that would include variants.
After reviewing their options, they chose FloEFD for Creo because it enables engineers to conduct fluid flow analysis inside the PTC Creo MCAD environment and to simulate their designs quickly, efficiently, and early in the process (Figure 2).
They found that the layout of valves is much better, especially in regard to performance and costs, because they can analyze more variations in the amount of time it used to take to analyze a conventional design without CFD (Figure 3). Their first design is much closer to the target, and optimization of the prototypes is much more efficient with FloEFD. Because of the good results and availability, they use FloEFD for the design of new products in addition to optimizing existing valves.
Time is of the essence in today's global marketplace, and by enabling design engineers at Bucher to conduct what-if analysis and progress their designs quickly, the company is able to provide products that offer a great combination of functionality and high reliability with a great price performance ratio.
Related posts: