Baxter the Robot is getting better at playing with others. Manufacturing workers who share workspace with Baxter will find their mechanical co-worker is getting better at taking lessons. Jim Lawton, CMO of Rethink Robotics, Baxter's manufacturer, characterized Baxter's improvements as software in nature. "We took the approach of putting the robot together as a platform so we could use the software to drive the usability of the robot," he told Design News.
Called Intera 3, Baxter's platform upgrade was designed to make it easier to work with Baxter, from training to task memory to safety. "With Intera 3, we double performance capability and expand Baxter's abilities," said Lawton. "Our latest software makes Baxter work twice as fast, with twice the precision previously possible."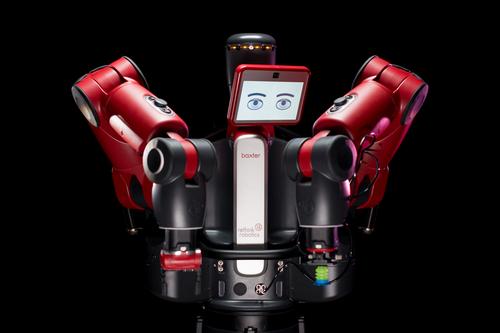 Lawton noted that one of the major differences in Baxter is that the robot is more responsive to training from co-workers. "From a training perspective, robots have usually been programmed for each task. Now I can show the robot how to do a task by grabbing its hand, and he remembers. After this simple training, Baxter can do the task over and over again." Lawton likens the training to showing a child how to tie shoes: "When you teach a child how to tie shoes, you get behind the child and show the motions. We use algorithms to drive the robot's performance through software instead of using gears and rotors."
Baxter's movements are controlled through seven joints that position the arm. Trainers can show Baxter's arm how to move, and the robot will mimic the action while retaining a memory of the action. "From the trainability perspective, you can train Baxter by demonstration," said Lawton. "You can show Baxter how to put these items in a box, and then put the box over there. You can work with the robot because Baxter has a notion of what a box is."
Since Baxter has the ability to learn and repeat motions by demonstration, these motions don't require programming. "You don't have to program all the individual movement," said Lawton. "Just show Baxter where one point is, and he'll do all the rest. So a layperson can train the robot. The learning is behavioral, and it uses artificial intelligence." Once Baxter has been shown a new task, it goes into the robot's memory where it can be called up on demand. "You can store all the tasks. You can call up the task and say, 'Today you're unloading the injection molding machine,' " said Lawton.
Baxter's famous mechanical eyes are part of the training and operation mix. While the eyes do not have vision sensors, they are designed to alert fellow workers of the robot's performance state. The robot looks in the direction where its hand is about to move, alerting co-workers. Plus, Baxter's eyes will let you know if it has run into a problem. "If Baxter can't find the part, it has a confused look on its face and it looks at its hand where the part is supposed to be," said Lawton. Baxter is also careful with co-workers. "There are sensors in Baxter's arm, so when any portion comes in contact with a human, it rapidly detects the contact and stops so it doesn't cause any harm," he said.
Related posts: