A new family of magnetic position sensors promises to boost accuracy of pumps and motors in applications ranging from automobiles to factory automation systems.
Introduced at the recent Sensors Expo by ams AG, the new sensors produce accurate angle measurements of rotors without the need for external hardware or software. Instead, they employ an integrated single-chip solution that virtually eliminates common measurement errors.
"Because it eliminates the need for an external hardware and software, it saves on bill-of-material costs, and it also saves on software development," Heinz Oyrer, senior marketing manager for ams AG, told Design News. "And it gives you better performance, because it brings your error down to almost zero."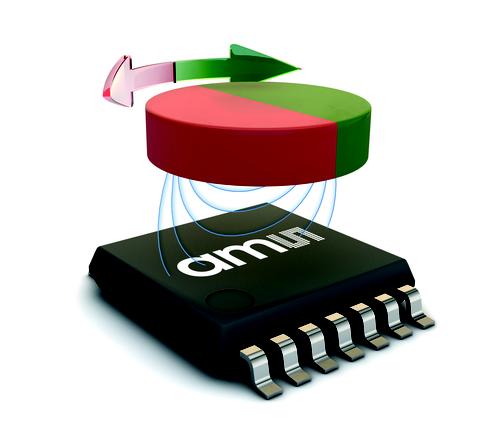 To provide a better measurement technique, ams's new sensor employs a built-in software algorithm that internally compensates for dynamic errors while calculating the angular displacement of a spinning rotor. Such errors, caused by a phenomenon called "propagation delay," have been well understood in the past, but they typically have required the use of external microcontrollers and/or digital signal processors to compensate for measurement delays. By putting proprietary software in an onboard read-only memory, ams's new sensors can reportedly offer a maximum angle error of just ±0.17° at 14,500 rpm without the need for such components.
Oyrer said the new technology is being targeted at automotive and industrial applications. In today's autos -- which now use an average of 35 brushless DC motors for windows, seats, doors, starters, and other moving parts -- the technology could boost torque and reduce mechanical noise inside the vehicle. In industrial applications, it could reduce torque ripple in robots, while enhancing precision in factory and building automation systems.
Oyrer told us that the technology could even serve in high-precision applications now reserved for optical encoders. "Optical encoders still have a few target niches where you need greater accuracy, but we believe this technology can do the job for much of that market," he said.
The new family of devices includes the AS5047D for industrial applications, the AS5147 for automotive, and the dual-die AS5247 for safety-compliant automotive applications.
Related posts: