The age-old design bench instruments have been revamped into a one-step NextGen package. National Instruments (NI) has introduced VirtualBench, an all-in-one instrument that integrates a mixed-signal oscilloscope, function generator, digital multimeter, programmable DC power supply, and a digital I/O. Users can use VirtualBench through software applications that run on PCs or iPads. The device wraps together common functionality, opening up new ways design engineers can use bench-top instruments.
NI's goal was to provide users with an affordable bench-top setup that takes up less space and interfaces with consumer WiFi devices. The new bench-top only needs one laptop and a VirtualBench box for each seat, replacing four to five boxes. Users can access the instruments through multitouch displays, multicore processors, wireless connectivity, and intuitive interfaces. NI noted that the simplification and increased capability through software leads to more efficient circuit debugging and validation.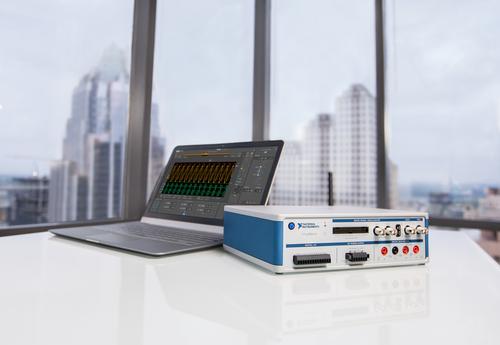 NI created the bench package so it would take up minimal space on a desktop or bench-top, simplify instrument configuration through consistent user-friendly interfaces, consolidate multiple instruments, and offer visualization on larger displays. The package is also designed to integrate seamlessly with LabView design software.
Since NI has long addressed test challenges from a software perspective, the idea of reconsidering traditional bench equipment came from a software point of view. "Throughout our history, our approach to instrumentation has been software based. VirtualBench brings a software approach to bench-top sets," Chris Delvizis, product marketing manager at NI, told Design News. "We're introducing software earlier in the design process. Where most NI products are used later when the product is being manufactured, this product will be used earlier, when you're debugging."
The concept for VirtualBench came from the observation that most test benches have the same three pieces of equipment that have been around for decades. They're bulky and each one has its own set of controls. "The primary instruments today include an oscilloscope, a functional meter, and a power supply. We kept seeing the same set-up at the labs. Each instrument has its own control buttons and displays," Delvizis told us. "What if we combined all of these products into one?"
As part of the revamp of traditional test instruments, NI wanted to bring the sophistication of consumer interfaces to the lab bench tools. "Frost and Sullivan recently put out a report on test equipment interfaces, noting that engineers would better relate to interfaces that are like the ones they use on the consumer devices," said Delvizis. "The new generation of engineers will demand the same level of sophistication on their test equipment as they have on their consumer products."
Once you take the oscilloscope, multi-meter, and power supply, and bundle them into a single unit, it's hard to recognize it as the traditional set of bench tools. "At first glance, it looks radically different from the instruments engineers are used to. Yet it contains the most common bench instruments," said Delvizis. "Now they're combined into one device. You have a mixed signal oscilloscope, a digital multi-meter, and a programmable power supply, and they're all combined into one unit that is smaller than any one of the traditional instruments."
Delvizis said NI is reconsidering other aspects of the traditional lab bench setup. Once the tools become digitized, new features can be added. He continued::
What we created is the tip of the iceberg. Another example of a new feature is called Hands Free. We use a built-in accelerometer. You can set it so when you bump your foot on the table, it engages the action. You can use it when both hands are occupied by the oscilloscope. It gives you that third hand. That wouldn't be possible with a traditional instrument.
Related posts: