A new high-performance digital signal processor (DSP) family offers a low-power solution for applications ranging from occupancy detection to building automation to automotive noise cancellation.
Known as ADSP-BF70x Blackfin, the new family of devices cranks out 800 MMACS (million multiply accumulate cycles per second) using just 100 mW of power. "We're offering half the power (of competitors) at the same performance level, or double the performance at the same power level," Andy Lanfear, product marketing manager for Analog Devices, told Design News.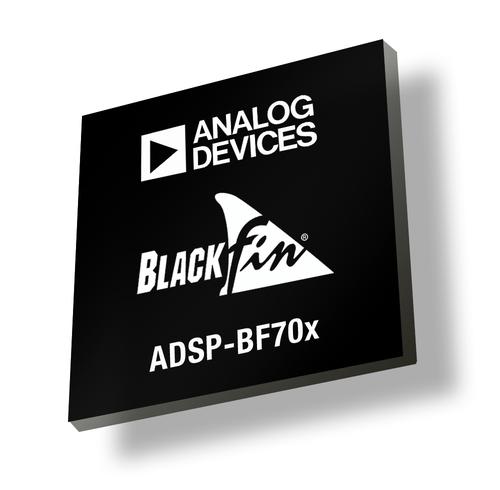 The processor's high-performance and low-power consumption make it a candidate for engineers who want to step up from simple occupancy sensing to intelligent vision-based systems. Its performance enables the Blackfin processor to analyze image data in real-time and therefore serve as the computational foundation for systems that can identify motion more effectively than simple detection systems using common infrared sensors.
"There are currently hundreds of millions of passive infrared sensors in industrial applications," Mike Long of Analog Devices told us. "The forecasts are for about 10% of that market to move to advanced occupancy detection."
Advanced occupancy sensing is considered important for building automation systems that can turn off lights or close HVAC dampers when no one is present. The technology is increasingly being driven by green initiatives that call for reduced energy usage, he said.
Analog Devices also expects the new DSP family to see use in audio equipment, as well as in noise cancellation systems for automotive applications. Many automotive OEMs are now working on low-cost noise cancellation technologies in an effort to bring a luxury feel to mid- and entry-level vehicles.
ADI engineers said the new family of devices would also see use in a wide variety of embedded applications that need a combination of high performance and/or low power. All of the new Blackfin devices feature an updated core that boosts the processing capability of the family from 16-bit to 32-bit, while cutting power consumption by approximately one third, Lanfear said. "These days, everybody is looking to get the greenest sticker and the lowest power consumption they can," he told us. "Engineers have to fit everything they do into smaller and smaller power envelopes."
Related posts: