Kollmorgen Motion Technology Company has introduced the Kollmorgen Automation Suite HMI, a set of rugged IP65-rated touchscreen panels that feature a single-surface screen with a widescreen format. The panels are built with a rugged aluminum chassis housing and premium configuration and screen building software. They provide Ethernet, and are designed to be quickly and easily programmed with the Kollmorgen Visualization Builder graphical tool. They also feature display and input capabilities suited for use in a wide range of packaging, food processing, and printing machinery applications. Kollmorgen's HMI panels are also built to work well in material forming, laboratory automation, and test and measurement applications.
The new panels use a 16:9 format and provide up to 30% more usable screen area than previous generations. All standard models also feature integrated Ethernet, as well as data logging and trending software. Nine different panels can all be programmed using the same software.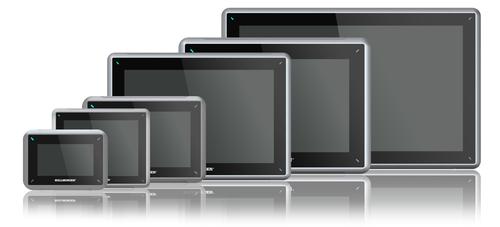 Kollmorgen is introducing updated HMI at a time when many control engineers are accustomed to very limited screens. "A lot of our customers are still transitioning from a hard-wired switch panel to a two- or four-line display," Reid Hunt, product manager for industrial automation controls and drives at Kollmorgen, told Design News. "They're surprised by a four-inch HMI."
One of the features of the Kollmorgen panels is their ability to withstand the rough environment of the plant -- the vibration and the grime. Hunt told us:
Cheaper HMI panels have an embedded screen with a raised plastic bezel, where contaminants can collect and liquids can seep in. Our HMI has a single-surface screen that is easier to clean and will actually stay clean around the edges. Additionally, many HMI panels use plastic housings -- and although they should not be abused, the aluminum bezel and back housing on the HMI product improves machine aesthetics and provides improved resistance to the accidental blows or sustained vibrations that occur in industrial environments.
For OEMs already using Kollmorgen Automation Suite for machine control, adding HMI panels is much simpler with the new Kollmorgen panels. Variables are automatically mapped from the PLC to the HMI so programming is simplified and takes significantly less time compared with other options.
As for ease in deployment, the Kollmorgen displays are pre-configured for the company's automation suite. "Our HMI design and its software is integrated. If you have a variable in the PLC, that variable is available in the HMI automatically," said Hunt. "Once you've developed the screen runs on the HMI, you will know what to expect. We use a modern software tool that allows you to make the screen easier, so you can build the screen quickly. If you have pre-set graphics, that can make a difference."
Related posts: