Depending on your opinion of civilian drones, Parrot USA's new hand-launchable Bebop Drone quadricopter is either super-cool or downright scary. It's stuffed with tech that lets it take 180-degree aerial videos with a 14 megapixel Full HD camera, plus GPS for a one-button Return Home function, and a ton of other abilities.
Parrot says the Bebop Drone has an onboard computer that's eight times as powerful as the one on its big brother, the company's AR.Drone 2.0. The new drone has a Parrot P7 dual-core CPU, a quad-core GPU, a proprietary image signal processor, and 8 gigabytes of Flash memory. It runs on Linux, and there's an SDK for developers.
Click on the Bebop Drone below to start the slideshow.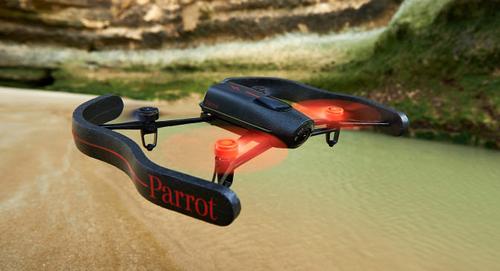 Like its big brother, the Bebop has onboard video cameras and WiFi for streaming video to the handheld control device. The main Full HD fish-eye (1080p x 1920p) camera's angle is controlled from the free piloting application, Freeflight 3.0, with a thumb movement. The app works on iOS and Android tablets and smartphones.
A vertical stabilization camera takes images of the ground every 16 ms, comparing them to the previous image to gauge speed, and an ultrasound sensor analyzes flight altitude up to 8 meters. The Bebop Drone's stabilization system uses a 3-axis accelerometer, a 3-axis gyroscope, and a 3-axis magnetomer to maintain a fixed angle of view, regardless of the drone's inclination or of movement caused by wind turbulence. Flight time is around 12 minutes.
Bebop Drone's structure is made of glass-fiber-reinforced ABS, and its three-blade propellers are polycarbonate, according to a press release. The drone measures 28 x 32 x 3.6 cm and weighs 380 g without its hull, or 400 g and 33 x 38 x 3.6 cm with the hull attached. The included hulls made of expanded polypropylene (EPP) foam guard the propellers during flight, and make indoor flights safer. An emergency mode makes the drone land immediately. But even if it runs into an object, the Bebop Drone's propellers automatically stop. This may not be such a big deal over its 300-meter range, but 2-kilometer range of the extended version means it can be out of the direct sight of the operator.
The extended range version, called the Skycontroller, has an amplified WiFi radio -- WiFi 802.11 a/b/g/n up to 36 dBm -- and more batteries. It runs on Android 4.2. Both versions will be available in the fourth quarter of this year, and price is still TBD.
Related posts: