In battery-powered wearable systems, such as sports watches and fitness monitors, every µA counts. The lower leakage currents of the latest microprocessors coupled with the use of load switches reduce the load current on the output of the power supply to below 10-µA levels.
This reality drives the innovation of more and more advanced power-save modes with lower and lower operating currents to increase the efficiency at extremely light loads. This article shows the importance of quiescent current (IQ) and power-save mode efficiency to the power draw of such systems where standby currents remain at very low levels for extended periods of time.
Wearable sports watches and fitness monitors have numerous difficult design goals. On the one hand, this end equipment must be very small and extremely portable if it is to be worn. On the other hand, they must support an immense and diverse array of functionality required by the user, such as: WiFi or Bluetooth connectivity; temperature, humidity, or velocity sensing; operating a display and/or LED driving; and so forth. Finally, these wearables must have a very low power consumption to maximize the battery run time and allow the use of a smaller and lighter battery. This is especially true in idle or standby mode, in which these devices operate most of the time.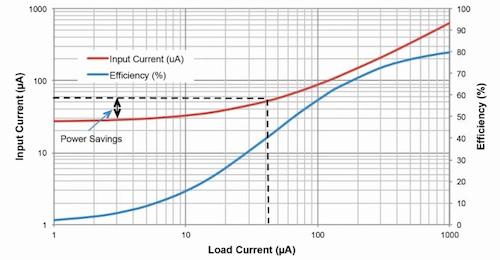 Each of these design goals has power management implications. First and foremost, the current consumption of all the different subsystems in the wearable device is minimized. Just as important is the current consumption of each power supply in the system. With the lower sub-system current drawn, the power supply operates at a lower output power, especially in idle or standby mode. At this operating point, the power supply's quiescent current is the dominant parameter, which defines the battery current drawn.
Therefore, in order to significantly reduce the battery current, it is no longer effective to simply reduce the sub-system's current. The power supply's quiescent current must be reduced to achieve meaningful reductions in battery current draw and therefore longer run times. As well, the power supply's power-save mode operation should be optimized for efficiency at these very low output powers.
Small steps
Figure 1 shows the efficiency graph and corresponding input current of a low-power wearable device power supply, which is very small in size: 1 mm x 1.5 mm x 0.6 mm. It has low-noise and a high power supply rejection ratio (PSRR) to power the RF sub-systems and operates with a low 22-µA quiescent current. The graphs show a typical 3.6V input battery with a 1.8V output voltage. Even if the sub-system designer reduces the leakage current from 50 µA to 5 µA (an amazing 10 times reduction), the battery current only reduces from 56 µA to 30 µA -- a disheartening 1.9 times decrease.
Because these very low current operating points occur in the portion of the efficiency graph where the efficiency is rapidly decreasing (from 45% to 8%), the input current reduction due to a reduction in output power is somewhat insignificant. At this point, the input current is slowly trending down to slightly above the IC's quiescent current. A lower quiescent current device, as well as a more efficient power-save mode, is needed to achieve a greater input current reduction.