Trends in industrial fluid power reflect the overall direction of industrial electronics. Equipment is getting smaller, smarter, and more efficient. The megatrends in hydraulics and pneumatics include miniaturization, environmental (meaning both clean and ever more efficient), and greater intelligence via electronic controls. These trends extend from the present into the future. As always, fluid power beats electric power in specific industrial functions. The overall market for fluid power continues to grow, although in some regions growth remains slow.
How small can you get?
One of the biggest trends in fluid power is ever smaller size. Miniaturization in many forms plays a good part of fluid power's future. "Fluid power customers are following industry-wide trends toward miniaturization. Small and lightweight wins over large and heavy," Mary-Jo Keenan, applications engineer at Beswick, tells Design News. "At the same time that customers are downsizing, they are adding more features to their products. This puts even more pressure on design engineers to find the smallest fluid power components possible."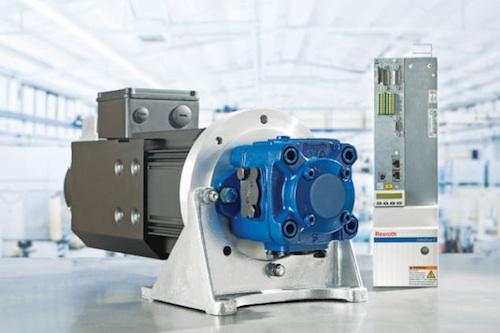 While miniaturization continues to become more important, durability is also a strong factor in fluid power. "Smaller in size not only saves valuable space, but it is aesthetically pleasing to the end user," she tells us. "In addition, customers require durable materials that can withstand extreme pressure and temperature conditions while providing corrosion resistance. Also, we have seen a greater demand for accurate pressure and flow control with high flow capacity in a compact envelope."
Jerry Walling, marketing and business development director at Fabco-Air, tells us there is continuing pressure to make fluid power equipment smaller. "Our customers want it smaller, cheaper, and faster," he says.
Growth for fluid power varies by region
Generally, the fluid power market is growing, though recent growth and future expansion in the fluid power market varies by region. Walling sees growth in terms of geography. "We're seeing growth in the Southeast US because of automotive," he says. "We're also seeing growth in the northeast."
Growth is always based in individual industrial sectors. Those sectors have geographic implications. "Our customers span the globe, from operating in locations close to our factory in New Hampshire, to the Far East," says Keenan. "We find that companies that design products for a specialized industry, such as medical, food packaging, or biotech, will congregate in a specific geographical location depending on availability of qualified engineers, tax breaks, and available real estate."
While parts of the industrial fluid power industry experienced contraction in North America recently, there are some sectors such as fracking in oil and gas that are expecting more growth. "The fluid power market has been growing. Last year there was a decline in the US, but no one is saying fluid power is out," Jon Frey, director of product management for industrial hydraulics at Bosch Rexroth, tells Design News. "The US is stronger than other areas of the world. Asia is having a tough time. Asia is still growing, but it's not on fire like it was five years ago. Fluid power products are used in fracking and natural gas exploration, so that helps with growth."
Electronic controls bring intelligence to fluid power
Like most industrial equipment, fluid power has become more intelligent. The advancement of electronic controls is becoming a big part of new fluid power equipment. "One trend in fluid power is the electrification of hydraulics. That includes on/off valves and pressure controls. Over the past few years we're seeing more proportional controls and more controls in the pump," says Frey. "The electronic controls are helpful if you have a machine with sequential operations, such as a plastic injection machine. It does one function, and after that, another function. The electronic controls provide a certain amount of pressure for a certain amount of time. Electronic controls make sure the pump only does what's needed when it's needed."