Rockwell Automation has been an automation industry leader in ensuring machine builders develop safe machines, offering a number of products and resources to improve this endeavor. To that end, the automation provider recently unveiled a new safety relay that can be configured and integrated through existing software to program safety logic in devices, the company said.
The new Allen-Bradley Guardmaster 440C-CR30 is best suited for applications requiring four to 10 safety circuits and control of up to five zones, Thomas Helpenstein, product manager for Safety & Sensing at Rockwell Automation, told Design News. Machine builders can program the relay through the company's existing Connected Components Workbench software, the same programming environment for Rockwell's Micro800 controller family.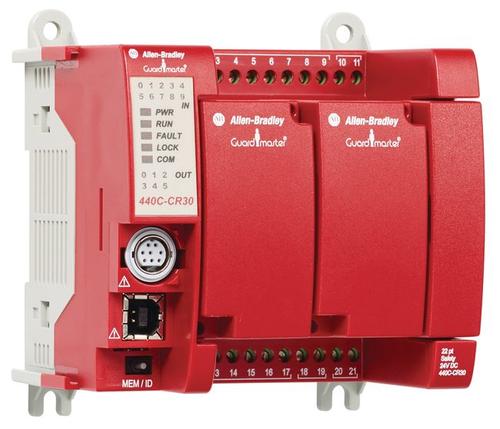 "Safety relays check and monitor a safety system, and either allow the machine to start or execute commands to stop the machine," Helpenstein told us. This simplifies the integration of safety features into a machine, particularly when used with the Connected Components Workbench, he said.
"Connected Components Workbench software reduces programming time and helps increase productivity by allowing users to create, control, and monitor a safety system in the same software environment as their standard control," Helpenstein added. "The distinct graphical user interface and drag-and-drop capabilities of the software help guide users through a simple process of selecting certified safety function blocks for the safety relay."
The Guardmaster 440C-CR30 includes an embedded Modbus interface that allows it to easily communicate diagnostic data to an Allen–Bradley Micro800, PanelView Component, or CompactLogix, according to Rockwell. By leveraging the features of workbench and the embedded communication capabilities of the Guardmaster 440C-CR30, users can monitor, troubleshoot, and modify their applications quickly and easily, reducing downtime and increasing availability, Helpenstein said.
Five status and 16 user configurable LEDs on the Guardmaster 440C-CR30 relay's faceplate provide local diagnostics to further provide status reporting and troubleshooting. The relay also includes 22 onboard safety I/O points, including six configurable I/O, and can be expanded with two standard Micro800 plug-in modules to support 16 additional standard I/O points without increasing its footprint.
Safety is a key concern for machine builders, and designing safety directly into equipment not only improves worker safety for customers, it also helps meet compliance requirements, among other benefits, Helpenstein said. "Building safety into machinery helps machine builders remain competitive and reduce legal risk," he said. "Although safety standards and risks vary from region to region, end users rely on machine builders to deliver all equipment with the same high level of safety, no matter where in the world it is shipped. Making all equipment consistently safe enables machine builders to gain a competitive edge domestically and expand to, or continue serving, large global end users -- no matter where equipment is installed."
Related posts: