Engineers searching for a smaller embedded computer that combines high performance with extended temperature operation may now have a solution. A new single-board computer offers an operating temperature range of -40C to 85C and a multi-core Intel Atom E3800 processor, making it a candidate for applications ranging from medical, to industrial, to military. WinSystems, maker of the new single-board computer, says it is able to serve in those applications without a using a big heat sink to handle its thermal loads. "We think this gives you a cleaner thermal solution," George Hilliard, sales manager for WinSystems, told Design News.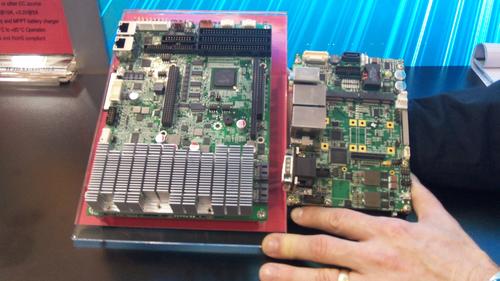 Known as the SBC35-CC405 Series, the new family of computers can employ single-, dual-, or quad-cores in its Intel Atom E3800 processor. Moreover, the silicon features low thermal design power, ranging from 5 W to 10 W. As a result, heat dissipation is low, making it unnecessary to use big heat exchangers. Instead, an aluminum mounting base channels heat away from the board. "We did it this way so that customers would be able to mount it more easily," Hilliard told us.
Introduced at the recent EE Live Show in San Jose, Calif., the new single-board computer was displayed next to an earlier generation board that offered about half the performance in a much larger footprint for a higher cost.
But the key is the board's thermal performance, WinSystems said. "This one screams," WinSystems VP, Bob Burckle, told us. "But it still operates at very low power."
Related posts: