Engineers looking for ways to cut costs and reduce board space on closed-loop applications may now have a solution. A new eight-bit microcontroller (MCU) offers a way to accomplish that by consolidating op-amps, converters, comparators, and other analog peripherals on board. It could see use in battery chargers, power tools, home appliances, glucose monitors, blood pressure meters, LED lighting systems, and a raft of other eight-bit applications.
"The uniqueness is the amount of analog integration we're putting on to the device," Greg Robinson, eight-bit MCU marketing director for Microchip Technology Inc., told us. "Our strategy is to move the work of the application on to the hardware of the microcontroller."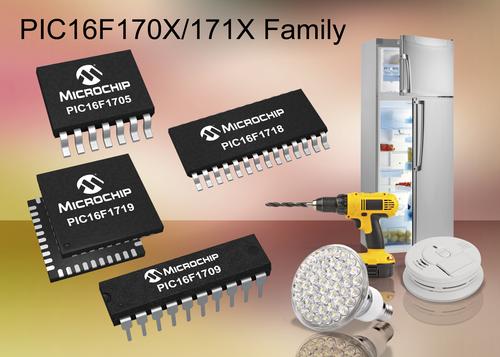 Eight of the 11 products in the PIC16F170X/171X family of MCUs are now in production. Members of the family incorporate a configurable logic cell, complementary output generator, and numerically controlled oscillator, all of which are designed to handle tasks with no code supervision from the CPU. This simplifies implementation of complex applications and reduces power consumption.
"The devices have these nice little decision-making trees that can be utilized without waking up the core," Robinson said. "It definitely helps with power and with timing."
At last week's EE Live show in San Jose, Calif., Microchip rolled out the devices and demonstrated how one of them could control an inexpensive inductive cooktop. The cooktop, designed for kitchens that don't have room for large gas ovens, benefitted in terms of both cost and board space. Robinson said the manufacturer of such cooktops could reduce the number of components by 30%, while saving $1 of the bill of materials for every control board.
"It's all about the combination of analog with the core-independent peripherals," he said. "That's really the secret sauce of this device."
Pricing of the new family starts at $0.59 in 100-unit quantities.
Related posts: