Sometimes it takes a new twist (excuse the pun) on technology to elevate a product to the next level. Twisted-pair Ethernet cable was designed to cancel the electromagnetic interference (EMI noise) found in most factory or process environments. The noise is commonly caused by the electric or magnetic fields of one telecommunication signal affecting a signal in an adjacent circuit. It can also be generated from external sources such as motors, drives, or transformers. Twisting the pair balances out the amount electromagnetic induction, thereby reducing the noise.
Industrial Ethernet cable manufactures have two ways of ensuring adequate and reliable twists. The first is bonding the two twisted conductors together to form a cohesive twisted pair. This setup was developed for commercial buildings and offices to keep conductors from separating in each pair during the installation process. It was later adapted to industrial cabling. Bonded-pair cable is an attractive option because conductors maintain their core design structure.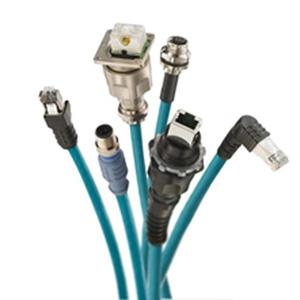 The second method of battling EMI is using a pressure-extruded jacket to hold both conductors and twist parameters in place. This results in a thicker jacket that not only protects and cushions the pairs but also limits the conductor-to-conductor gap. Pressured jackets also have a firm round profile that is crush resistant and ideal for obtaining a reliable seal with overmolded connectors.
Both bonded pairs and extruded jackets are fine when the cable isn't moving. For the continuous motion many cables experience in the plant, it takes extruded jackets to stand up to the strain. "When pairs are bonded together, there is no freedom of movement during motion. The rigidity of the construction causes hot spots at the center of the flexing radius," April Ankrum, senior product manager for connectivity at Turck, told us. "Over time, the cable experiences stress and generates heat, which eventually leads to failure."
Plant operators don't see this same scenario with extruded jackets, she said, because the pairs have the freedom of movement to alleviate heat dissipation and stress. "Turck leads the industry with high-grade extruded jackets, using the best industrial cable available. This allows all of our stranded Ethernet cable to be suitable for both static and repeated motion installations."
Ankrum conceded that customers are confused about which solution is better for their application. "Unfortunately, during a communication failure is not the time to investigate what type of cable you should have installed. We solve the problem by standardizing on high-quality extruded jacket Ethernet cables that are suitable for both office-to-factory and factory-to-machine installations."
Out on the factory floor, she often sees office cable used for industrial purposes. "The world of industrial Ethernet cabling is murky. We see some competitors offering office-type cable for the harsh factory environment." But cables designed for office use are rarely suited for the extreme temperatures, humidity, vibration, and noise in the plant. And cost is not the differentiator between bonded-pair cabling and pressure-extruded jacketing. "Industry-wide, there is no significant cost difference."
Related posts: