Over the past 50 years, Moore's Law has driven remarkable enhancements in semiconductor device performance, size, and cost. It has also dictated stricter requirements on R&D teams for shorter development cycles.
With the growing demand for electronics applications in multiple industrial and commercial areas, a design engineer may be working on circuitry for two completely different applications simultaneously -- for example, precision amplifiers for instrumentation in an avionics system and a low-commodity switched mode power supply for a consumer product. However, regardless of the project, the designer's design methodology, software tools, and bench-top test hardware remain the same.
The development process for electronic designs starts with determining the specifications to be met by the final design. Based on these specifications, the design goes through multiple prototyping iterations that involve using electronic design automation (EDA) tools for simulation, layout, system integration, and testing before handing the finished design over to manufacturing.
The cost of a single prototype iteration is highly variable and depends on the design type and application. For example, an iteration of a prototype for a 40 MHz digital controller on a six-layer PCB could cost a few thousand dollars and two weeks of the developer's time. A prototype for a microwave transceiver front end on a silicon-germanium wafer could cost a quarter of a million dollars and require months of development. With such large costs, it's important to leverage EDA tools to minimize wasted costs and decrease time to market.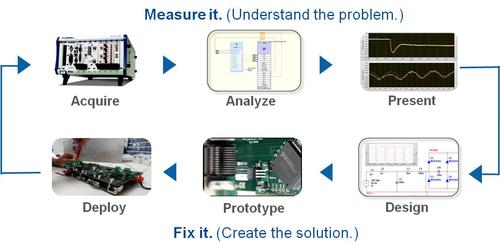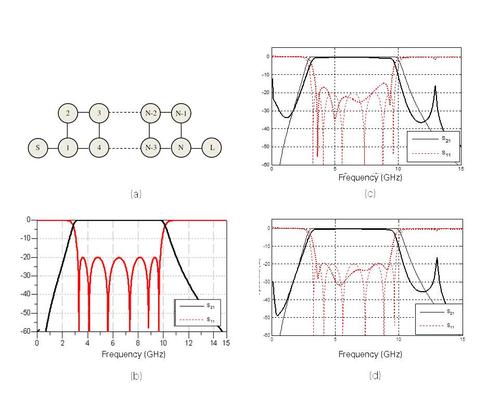 Choosing the right development EDA tools is one of the most critical investment decisions made by research and development managers. Techniques that bring early test integration to the design stage help improve the design performance and reduce prototype iterations. The system development process (involving design and test procedures) is well defined by the Design-V model for the automotive and several other industries. However, semiconductor designers have not taken full advantage of test integration. Using the following techniques for circuit simulation and integration with test sequences significantly improves the design performance.
Leveraging multiple simulation approaches
One of the most painful processes for circuit designers when working with EDA tools is transferring a design from one tool to another. Typically, this process is very error prone and leads to complicated library management. A lot of the design data gets lost, even if the tools accept standard file formats. Another issue with switching between multiple EDA tools is the time required to learn each tool. Despite these challenges, multiple tools in the design flow could be more productive when leveraged appropriately.
Let's consider the example of developing a passive ultra-wideband microwave filter. The designer could benefit from a math-based synthesis tool to develop the filter coupling matrix, along with a harmonic balance circuit simulator to evaluate the topology modeled by lumped components. He would then use a two dimensional electromagnetic (EM) simulator to calculate the initial response of the physical implementation on the board. Finally, a fully blown 3D EM simulation would be used for design optimization.
Even though this ultra-wideband filter could be accurately designed in the 3D EM simulator, it would have taken much longer without the synthesis, circuit simulation, and 2D simulators. In this case, the use of multiple tools is justifiable. Overall, the most important benefits to EDA users are less simulation time, an extended library of parts (and PDKs in the case of chip developments), and a user-friendly interface.